Newly FDA approved device saves lives of kids who need heart transplants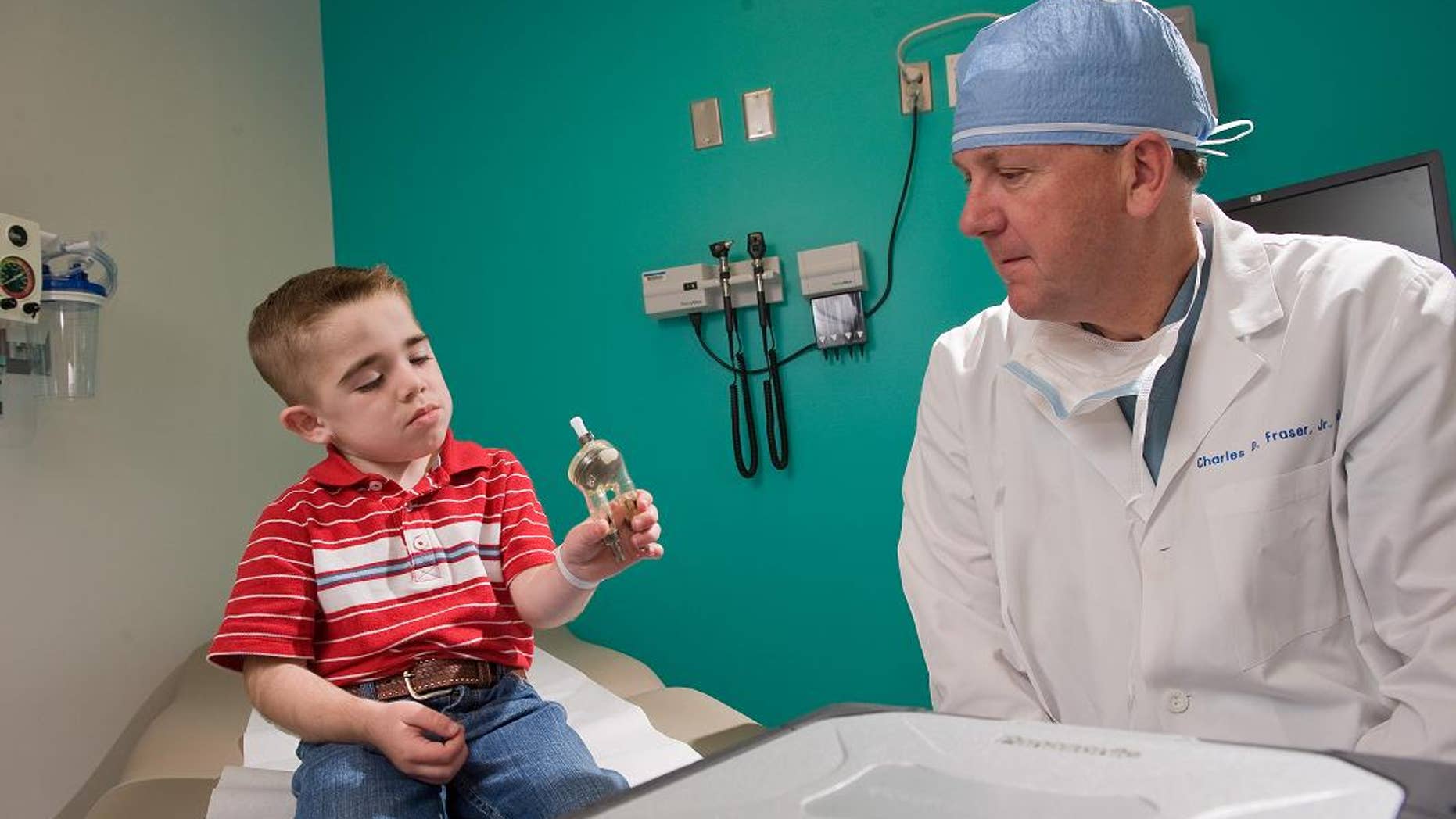 Researchers announced Wednesday that a tiny pump meant to sustain children and babies suffering from heart failure proved to be both effective and life-saving in a pioneering nationwide study.
The Berlin Heart, a pediatric ventricular assist device (VAD), was approved by the U.S. Food and Drug Administration in December 2011 for use in children and babies.  It has been implanted in approximately 1,000 children awaiting heart transplants worldwide.
For the procedure, doctors insert small flexible tubes, called cannulas, in the child's failing heart, which extend through the skin and connect to a pump outside the body.  The pump and a computerized drive unit help maintain blood flow.
Following its approval, a team of researchers from 17 institutions, led by Texas Children's Hospital and Baylor College of Medicine, set out to measure the Berlin Heart's effectiveness and patient survival rate against other, more traditional therapies for pediatric heart failure.  They called the results, published in the New England Journal of Medicine, "unprecedented."
Principal investigator Dr. Charles Fraser, surgeon-in-chief at Texas Children's Hospital and professor of surgery and pediatrics at BCM, told FoxNews.com there are not a lot of suitable donors for children – usually only 70 to 80 small donor hearts become available in a given year.
"Almost a third of children die on the waiting list," Fraser said.  "But [the Berlin Heart] now allows patients to be on the list longer, and therefore have a better chance of surviving to receive a heart transplant."
• Compared to the previous standard of therapy, known as extracorporeal membrane oxygenation (ECMO), the median survival time of infants (average age: 1 year old) was 28 days compared to five days on ECMO.  The longest survival time was 174 days on the Berlin Heart compared to 21 days on ECMO.
• By 174 days, 88 percent of children on the Berlin Heart had been successfully transplanted, while 12 percent had died or failed weaning.  In comparison, at 21 days, 25 percent of children on ECMO had died.
• Meanwhile, the median survival time of older children (average age: 9 years old) was 43 days on the Berlin Heart compared to five days on ECMO.  The longest survival time was 192 days on the Berlin Heart, compared to 28 days on ECMO.
• At 192 days, 92 percent of children on the Berlin Heart had been successfully transplanted or weaned off the device, while 33 percent of children on ECMO had died within 30 days.
In addition, children on the Berlin Heart experienced other benefits in quality of life.
"Children who have developed heart failure are extremely ill," Fraser said. "Quite a number are on ventilation, require large doses of medicine or are not able to eat properly, so they're malnourished.  But with successful implantation of the pump, we've seen them get off the ventilator and intravenous medications; if they're old enough, they can walk or sit up and eat normal food."
In the study, the researchers noted risks associated with the Berlin Heart – including major bleeding, infection, high blood pressure and a higher-than-expected rate of stroke.  However, these risks generally did not appear to impede patients from receiving a transplant, they added.
A tough choice
For one family, the study confirms what they have known for years.
In 2005, at 26 weeks of pregnancy, Becky Burch and her husband, from Corpus Christi, Texas, received terrifying news from their doctor: Their unborn son Brady had an enlarged heart and a very small chance of survival.
Brady suffered from aortic stenosis, a condition in which the aortic valve – responsible for carrying blood out of the heart – does not fully open.
"Basically, they told me he had a zero percent chance of survival," Burch told FoxNews.com.  "They said we could hope and pray, but there was little hope that he could make it because his heart was very bad."
At 34 weeks of gestation, doctors induced labor and attempted to balloon Brady's aortic valve.  The procedure failed.
The Burch family sought out the expertise of doctors from Texas Children's Hospital, including Fraser, who put Brady on a waiting list for a heart transplant – but there were no guarantees he'd survive long enough.
"Brady came to us in severe heart failure, teetering on death's door, and we knew he was not likely to last long enough to receive a heart transplant," Fraser said. "We faced a dilemma: Do we continue to limp along and put him on ECMO where the likelihood of survival was not high, or do we implant the Berlin Heart based on the supposition that it is superior?"
There was one serious drawback to the Berlin Heart: At the time, the procedure had never been done before in Texas.  But it had shown promising outcomes for children in Germany.
Nothing to lose
Despite her initial skepticism, Burch came around to the idea.  "We felt we needed it – we didn't know when a donor heart was going to come," she said.
Because the Berlin Heart was not FDA-approved and the procedure had never been done in Texas before, Burch and her husband had to fill out countless forms and insurance paperwork before doctors could implant it.  The device had to be shipped from Berlin.
"It took two weeks just to get pump to us, and we almost lost him numerous times," Burch said.
Finally, after one last delay due to a hurricane, doctors were able to perform the operation on September 27, 2005. Immediately after Brady was wheeled out of surgery, Burch said she could see the improvement in her nearly 4-month-old son.
"Brady was on his death bed from the day he was born until he received the Berlin heart pump," Burch said. "His color was tremendous, so much better. Before, he was very blue, very dusky, and when he came back, his body just looked better."
And, two days later, Brady received a human donor heart.
Today, he is a happy, healthy 7-year-old with interests in hunting, dancing, golf and listening to country music, particularly Jason Aldean.
"I call him my little man," Burch said. "He's an old soul, outgoing, full of life, and he has a huge personality.  Everybody who meets him walks away thankful for life."
More educated decisions
While Brady still tends to get sick more than most children, his recovery is a success story.
"He's gone through a lot," Burch said.  "He takes medications every day; it's become routine.  We showed him pictures and he knows he has a new heart… I tell him, 'You're just like everybody else, you just have a special heart.'"
According to Fraser, Brady's experience, combined with the new study should give doctors and parents better insight on a procedure that less than 10 years ago, was relatively unknown in the U.S.
"Brady's was a fascinating case," Fraser said.  "Hopefully going forward, it will be only of historical relevance.  He has done very, very well."
"If we were to face (the) same situation today, doctors would be able to sit with the parents like Brady's and say, 'This has been the experience with patients similar to him.'  We'd be able make much more educated, evidence-based decisions."