New study indicates that reducing salt intake could save 100,000 U.S. lives per year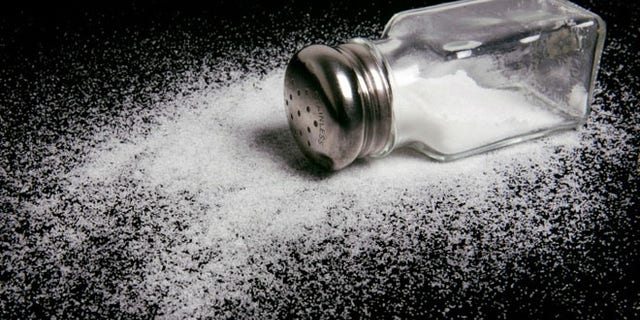 A reduction in dietary salt intake by 50 percent could prevent approximately 100,000 deaths from heart attack and stroke in the United States every year, according to new studies published in the April 4 issues of British Medical Journal online.
And researchers suggest that the responsibility for reducing salt in foods lies primarily with the food industry.
"Eighty percent of the salt that we eat is added by the food industry," study author Graham MacGregor, a professor of cardiovascular medicine at the Wolfson Institute of Preventive Medicine in London, told FoxNews.com.
In MacGregor's study, researchers analyzed data on 3,000 adults who decreased their salt intake over the course of about four weeks.
Results indicated that study participants saw an average decrease in systolic blood pressure of 5 mmHg. Similar results were found in a second analysis of 56 studies, also published in the April 4 issue of BMJ.
Achieving this type of blood pressure decrease across the entire population could have major health benefits, according to MacGregor.
"Blood pressure is the biggest cause of death in the world – much bigger than cigarette smoking. It is the major cause of strokes, heart attacks and heart failure," MacGregor said.
Because salt intake is such a large contributing factor to high blood pressure, study authors suggested that the World Health Organization adjust their global goal to reduce daily dietary salt intake from 5 grams (about one teaspoon) per person by the year 2025, to 3 grams per person per day.
MacGregor says that if the food industry attempts to reduce salt levels in food, it could make a big difference. In the United Kingdom, companies like Heinz, Kraft and Kellogg's have committed to slowly lowering levels of salt in food products.
"Levels of sodium in Kellogg's Corn Flakes have decreased by 70 percent since about 2005," MacGregor said. As a result of such actions, the population of the U.K. has experienced a 15 percent reduction in salt intake over the past seven years, which researchers say has prevented about 9,000 deaths per year from cardiac arrest and stroke.
But MacGregor says the United States has lagged behind on this effort.
"It's been a disappointment," MacGregor said. "…Many, many thousands of people could be prevented from dying prematurely from strokes and heart attacks, if the food industry acted more responsibly."