New Jersey man receives kidney transplant after viral t-shirt plea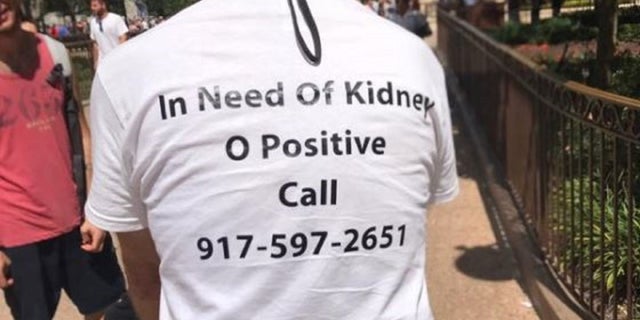 A New Jersey man with a creative approach to finding a kidney donor unexpectedly got the help he needed from a stranger across the country, Pix 11 reported.
Rob Leibowitz, 60, a single dad with five kids, said he acted "out of desperation" when he decided to put his plea on a t-shirt and wear it during his family trip to Disney World in August.
The man's out-of-the-box idea worked and he received a new kidney on Thursday, Pix 11 said.
The t-shirt that made it all happen, which Leibowitz reportedly donned for nine days in a row, read, "In Need of Kidney O Positive" along with a telephone number.
"You know, I came up with idea because I think it's out of desperation," Leibowitz told Pix 11. "I look at my kids. When I'm with my kids, all my problems go away and I needed more time with them."
CANCER SURVIVOR, 5, KILLED BY RUNAWAY CAR ON EVE OF ANNIVERSARY OF FINISHING CHEMOTHERAPY
On the trip, other park-goers caught a photo of his shirt and posted it on Facebook, according to the outlet. Leibowitz said he "was in shock" from all the calls he received.
Eventually, a potential donor with a matching blood type reached out, Pix 11 said.
Richie Sully from Indiana said a friend sent him the post about Leibowitz while he was giving blood for those affected by Hurricane Harvey. Sully reportedly left a voice mail offering up his kidney.
"Hi, my name is Richie. I saw your post," the message said. "I have an extra kidney. I'm O-positive. You're more than welcome to have it."
Sully, who is also a single parent, flew out to New York to meet Leibowitz and said the pair "really hit it off," Pix 11 said.
FLU DEATHS PROMPT WARNINGS FROM VICTIMS' FAMILIES AS OUTBREAK CONTINUES
Sully described the transplant surgery, which the pair underwent at New York Presbyterian Hospital, as "not a big deal," adding that he wished people understood that so there could be more potential donors.
But Leibowitz didn't downplay the situation and said he plans to thank Sully "for the rest of my life."
"I keep saying, 'Thank you,'" Leibowitz told the outlet. "But you can't put into words what he did for me, so I'll have to figure out how to do the best I can for the rest of my life."
A donation page on YouCaring.com has been set up to help offset Sully's expenses. As of Thursday evening, more than $7,000 had been raised, exceeding their initial goal.