New Jersey dad infected with flesh-eating bacteria while crabbing to lose fingers, some toes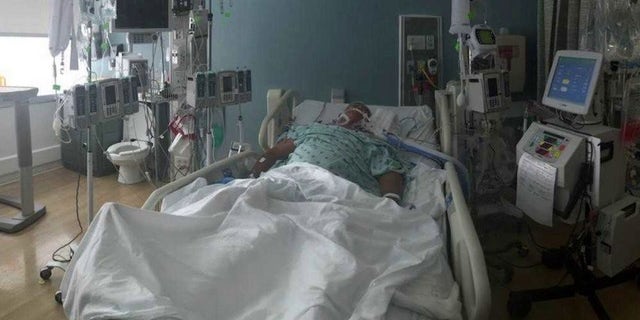 A New Jersey father who contracted a flesh-eating bacteria while crabbing at Matt's Landing in Maurice River in early July will reportedly need to have his fingers and some toes amputated in order to prevent the spread of infection — and his family hopes the loss of body parts ends there.
Angel Perez, 60, has remained in critical condition at Cooper University Hospital in Camden, ever since he started experiencing symptoms after his July 2 crabbing trip. A day after being on the water, Perez noticed his skin was blistering and all four limbs had begun to swell and change color.
Doctors believe Vibrio bacteria, which is often found in warmer waters where the river meets the sea, is behind the aggressive infection. And it's even more dangerous for Perez, who has a weakened immune system due to Parkinson's disease.
So far, both Perez and his family have been staying positive.
NJ DAD MAY LOSE ALL 4 LIMBS AFTER CONTRACTING BACTERIAL INFECTION WHILE CRABBING
"He is day-by-day getting better, his spirits are still positive. He has faith, he's praising God. He is being a jokester, he's being humorous," Perez's daughter, Dilena, told FOX 29. "He is still in a lot of pain."
Dilena hopes her father's infection has spread to his blood and skin, and she prays he will respond antibiotics to avoid further amputations.
"They said there's no stopping it, but they are taking time, so they don't amputate too high up or too low," Dilena told Ocean City Patch. "He will lose his fingers and some toes."
VERMONT WOMAN REVEALS HORRIFIC WILD PARSNIP BURNS IN WARNING ABOUT DANGEROUS PLANT
She recalled her dad whispering, "Don't take my legs. Please, don't take my legs."
Dilena warned others to avoid swimming in warmer waters — or areas not designated as swimming zones — this summer.
"People want to swim and have fun, but just be very careful," Perez-Dilan told Fox 29. "Don't just jump in the water with wounds open. But, that's what people do. We think water is safe. If you see something that's out of the norm, go and get it checked."
Fox News' Alexandria Hein contributed to this report.