NASCAR driver's long-time girlfriend in battle for life against ovarian cancer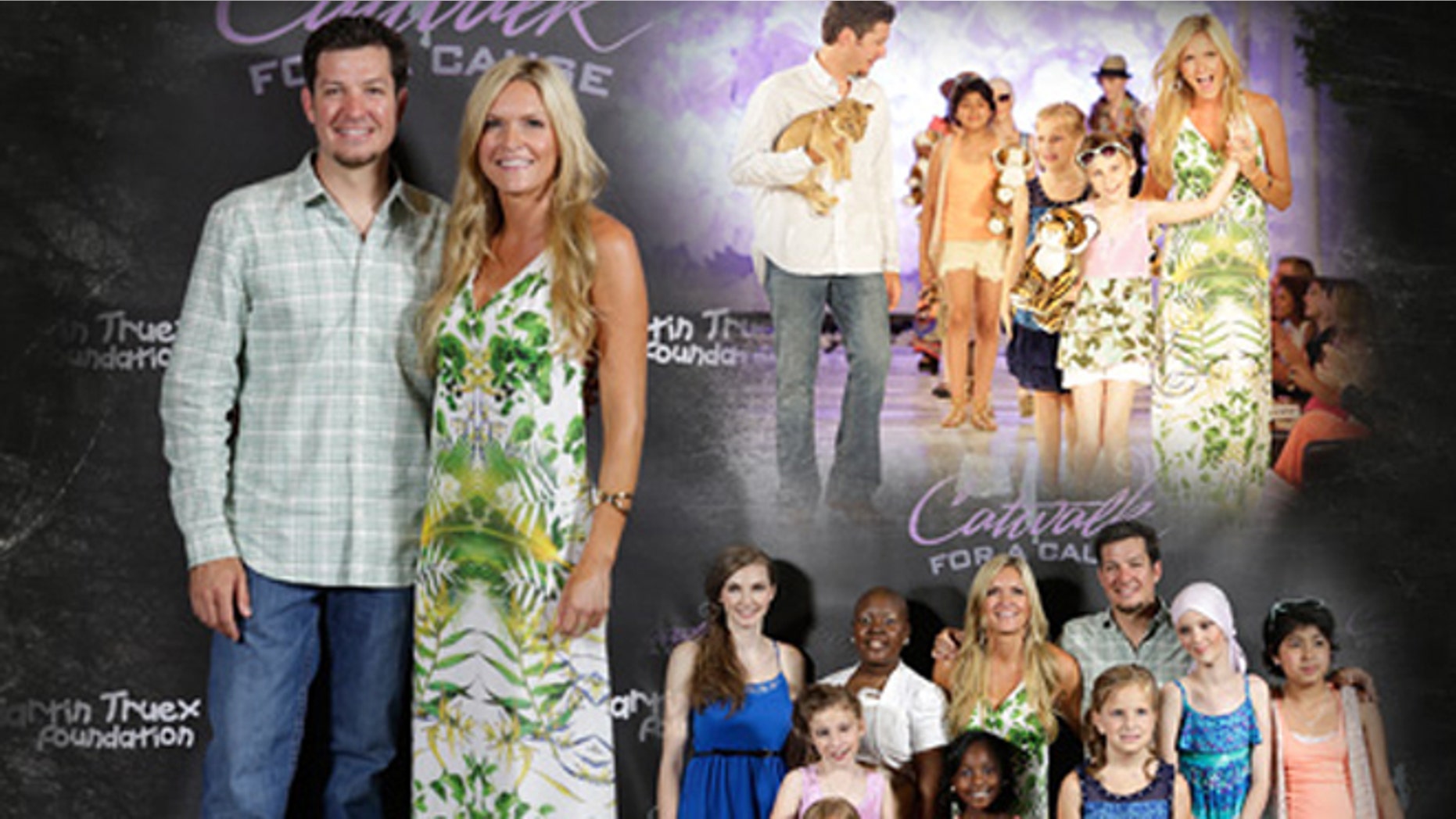 The return of a NASCAR driver's long-time girlfriend at the track this month was more of a homecoming for her than a show of support for him, as she continues to fight for her life in a battle against ovarian cancer.
Sherry Pollex, who has been dating driver Martin Truex Jr. for eight years, returned to Talladega Superspeedway in mid-October, seeing many of her friends for the first time since she was diagnosed with, and started treatment for, stage 3 ovarian cancer.
Pollex, 35, told USA TODAY she started feeling sick over the summer and went to the doctor, but couldn't get a firm diagnosis.
"She had gone to three or four doctors, and they couldn't find out what was going on," Truex told USA TODAY. The couple consulted a surgeon recommended by a friend, who suggested a CT scan.
"They did the scan. Two hours later, he called and told us to come down to the office. Right away he told us, 'You have ovarian cancer,'" Truex told the newspaper.
For the couple, who had just started discussions about having a child, the news was devastating.
"I had stopped taking birth control pills," Pollex told USA TODAY. "As soon as I had the CT scan and heard the diagnosis, I did ask if I could save my eggs. The doctor told me there was no time for that. He said, 'We have to get you to surgery in the next few days, or you're going to die,'" she said.
Ovarian cancer is the most deadly form of reproductive cancer, and affects about 20,000 women in the U.S. annually, according to the Centers for Disease Control and Prevention (CDC). About 90 percent of women who are diagnosed are older than 40, with the greatest number of cases occurring in women over 60.
Pollex told the newspaper that because of a late diagnosis, her survival rate is less than 30 percent— with an earlier diagnosis she would have had an 85 percent survival rate.
"There was no time to think about the fact that I was devastated that I could never be a mother," Pollex told USA TODAY. "I don't know what hit me worse – the devastation that I couldn't carry my own child or the devastation that I had stage 3 cancer. To hear all that in a matter of five minutes – it was so hard," she said.
Doctors removed Pollex's spleen, ovaries, fallopian tubes, part of her stomach and her appendix, according to the report. She lost upwards of 20 pounds and is undergoing weekly chemotherapy treatments until January.
"We lived our life in fourth gear all the time," Pollex told USA TODAY. "We were constantly running. I ran a business and Martin's foundation and travel full-time with him. I never stopped. So adjusting to a new normal and having to put your life in first gear and learn that your body can't run like that anymore is the biggest adjustment for me."
Turex has placed a teal ribbon on his car – the color representing ovarian cancer awareness.
"It's important for us to educate people. It's something that people are very naïve about, and we're going to try to change that," Pollex told USA TODAY.
According to Pollex, had she been properly educated about her disease— and diagnosed earlier— she could have changed her outcome.
"I don't know if I'm going to be here in five years. I don't know if I'm going to be here in two years. All I can do right now is fight and try to help other women so they don't make the same mistake," she told the newspaper.
Pollex is looking forward to working closely with the Ovarian Cancer National Alliance to promote awareness of the disease. The couple is also working on the Martin Truex Jr. Foundation, which assists children and families touched by pediatric cancer, according to the report.
"I'm a fighter. I'm not going t lie down and let it take me," Pollex said. "To me, every day is a gift. I don't miss much. I'm making memories. I hope in the end I can come out healthy and spend the rest of my life educating women about this," she said.