N.Y. Chef Earns Fans, Critics With Cheese Made From Human Breast Milk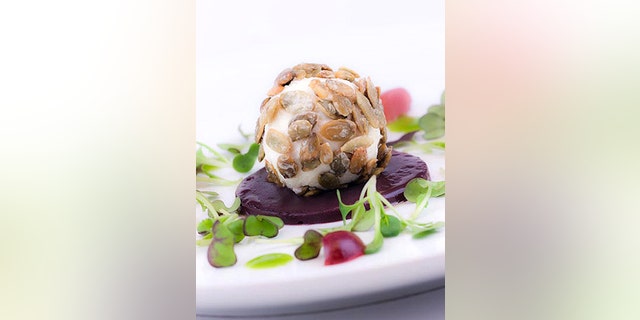 Daniel Angerer is used to getting attention for the food served at his restaurant, Klee Brasserie — but the New York chef is making more headlines than ever over a new dish that has its source in his fiancee's brassiere.
"Mommy's Milk Cheese" is exactly what it sounds like: cheese made from the breast milk of a nursing mother.
In Angerer's case, that mother is his longtime fiancee, Lori Mason, who was producing more milk than she knew what to do with while nursing their now 10-week-old daughter, Arabella.
Slideshow: Got 'Mommy's Milk?'
"We see this supply in the freezer and basically can't stuff anymore breast milk in there," Angerer told FoxNews.com.
So, the couple started researching how they could donate the milk but discovered it was a "lengthy process."
"We realized we were going to have to throw a lot of it out, pour this liquid gold down the drain, and we were not going to do that," Angerer said. "So, me being a chef, we said, 'Hey, let's make some cheese!'"
After a successful experiment in February, Angerer posted his new recipe on his blog, "Taking Butter From Lettuce and Sugar From Peas," and from there, Mason said, it took off "like wildfire."
"People were sort of intrigued, interested, put off, fascinated, disgusted — whatever it is, people were obviously reacting and responding to it," she said.
And while responses to Angerer's blog post range from supporters who call "Mommy's Milk Cheese" a "beautiful thing" to critics who are horrified by the whole idea, Mason says the responses from those who've tasted it are far less varied.
"The people who've tried it so far say the same thing, which is, 'Oh, it tastes like cheese.'"
The couple's curious neighbor Troy Berman followed suit Tuesday, saying, "it tastes the same as any other cheese to me," after sampling it for the first time.
Being just as curious, I also gave it a try, and while I found it to be slightly softer, a little more gelatin-like, than a standard slice of deli cheese, if anyone had told me it was a piece of provolone, I easily would have believed them.
Angerer said that's exactly what he was going for with this batch.
"The one you tried was more like a cheddar or provolone cheese," he said enthusiastically.
Other batches have included cow's milk, peppercorn, truffle shavings, even one with a light soy sauce, and textures range from ricotta-style cheeses to some hard enough to grate over food.
But Angerer isn't the only one controlling the flavors in the cheese.
"People ask me if it tastes different according to what I eat, and I think it does," said Mason, a vegetarian. "I think there are times, if I'm eating sweets and cookies and things like that, that it tastes a little bit sweeter than if I'm in a round where I'm eating a lot of vegetables."
It's that impact that a mother has on what's in her breast milk that has the Health Department and other critics warning against the public consumption of human cheese.
"Consumption of breast milk could unknowingly expose consumers to infectious diseases like hepatitis and HIV," FoxNews.com Managing Health Editor, Dr. Manny Alvarez wrote in the Fox News Health Blog.
Dr. Manny says people need to consider the risks associated with consuming any kind of food or drink containing human fluids.
Mason and Angerer agreed, saying "Mommy's Milk" was never intended for Klee Brasserie. But, confident in Mason's health and diet, they have no issues with eating it themselves or letting others give it a try outside of the restaurant.
"People are eating milk from a cow or a goat or a yak or whatever and the milk from those animals feed their young just like the milk from humans feed their young. And while adults of most species aren't meant to eat dairy or drink milk, we do," Mason said. "So if anything, it's less of a stretch to eat human's milk. … It's the most nutritious thing on the planet for humans."
Dr. Manny agrees that breast milk is "one of God's greatest natural foods" but says denaturalizing its properties causes the milk to lose its many nutritional values.
"So if you think you're going to eat breast milk cheese in order to improve your immune system, you should probably think again," he said.
Angerer said the couple still is going through the approval process to donate Mason's extra breast milk to those in need in its most nutritional form.
But in the meantime, the couple plans to hold some kind of a private tasting event for those looking to try "Mommy's Milk" and promises more cheeses — and maybe even gelato — to come.
"You will be the judge what is really better for humankind," Angerer said. "And if you're eager to try it, supply lasts."