Multistate outbreaks of salmonella, E.coli linked to alfalfa sprouts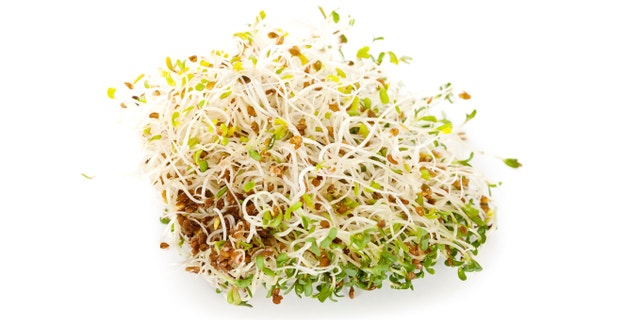 NEWYou can now listen to Fox News articles!
This week, two foodborne illness outbreaks have been linked to alfalfa sprouts, with at least 20 sickened with salmonella or E.coli infections.
According to a Centers for Disease Control and Prevention (CDC) report from Tuesday, 13 people were infected with Salmonella Muenchen in four states: Kansas (5), Missouri (3), Oklahoma (3) and Pennsylvania (2). The date range for the illnesses is December 1, 2015 to January 21, 2016. The patients range in age from 18 to 73, and 92 percent are women.
The outbreak, which is being investigated by the CDC, the Food and Drug Administration (FDA), and state and local officials, has been linked to alfalfa sprouts produced by Sweetwater Farms of Inman, Kansas.
Salmonella, which can cause diarrhea, fever and abdominal cramps, usually lasts four to seven days and most people recover without treatment.
On Wednesdsay, the Minnesota Department of Health announced an investigation of an E.coli outbreak that sickened seven in the state since late January, as well as two in Wisconsin. The cases have been linked to alfalfa sprouts from Wisconsin producer Jack & the Green Sprouts, according to the Star Tribune.
E.coli symptoms can include stomach cramps and diarrhea. Most people typically become ill two to five days after being exposed and recover in five to 10 days. The illness can lead to serious kidney problems and even death.