A 58-year-old woman who was reportedly faced with either surgically removing part of her tongue or succumbing to cancer within months has had a new one fashioned out of a vein and pieces of her arm. Joanna Smith said her trouble started in October when she noticed an ulcer in her mouth, which doctors determined to be cancerous, SWNS reported.
"He said if if I didn't have the operation I wouldn't see next Christmas," Smith, a grandmother from Clapham, Bedfordshire, told SWNS. "He said I would be lucky if I got six to eight more months. That was a bit of a shock."
WOMAN LEFT WITH 1 NOSTRIL HOLE AFTER BOTCHED SURGERY TO FIX DOG BITE
She told the news outlet that surgeons removed nearly all of her tongue, the glands in her neck, and multiple teeth in a 10-hour operation, which also included cutting skin and muscle from her leg initially intended to create a new tongue. But the pieces obtained from her leg were rejected, and her family gave permission to the surgeon to try another approach using her arm.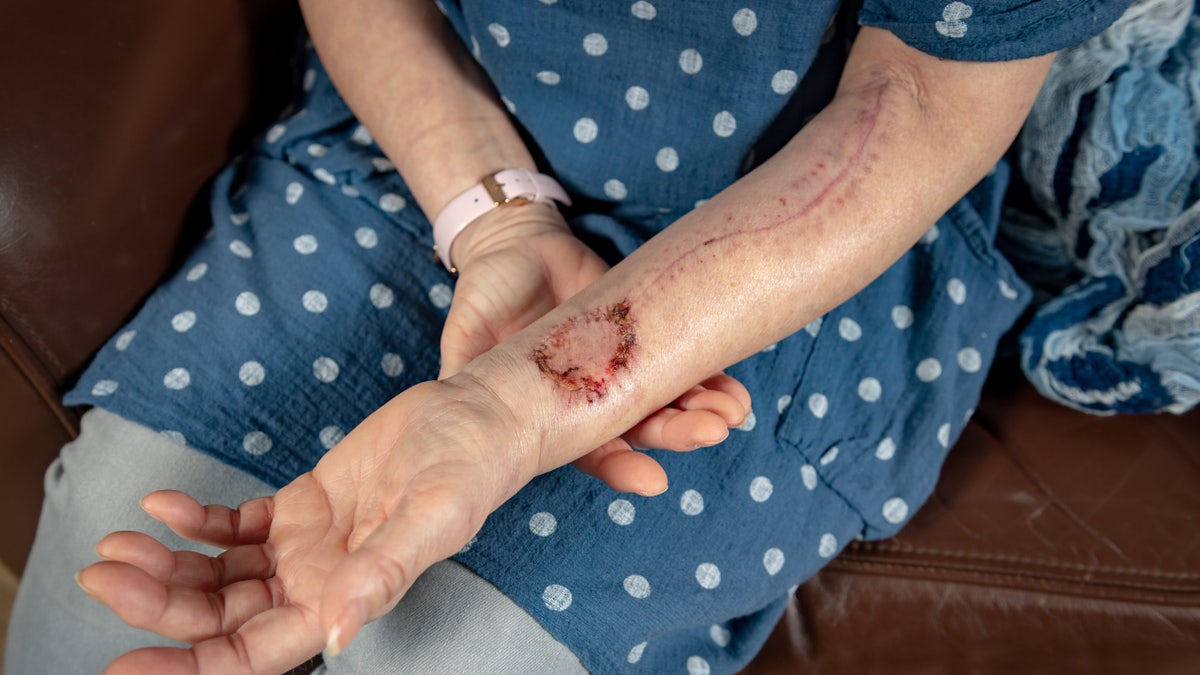 In total, Smith said it took three surgeries, and a vein and skin from her left arm to create the tongue she has now. While she said it's obvious where the doctors were forced to take the muscle, skin, and vein from in order to create her new tongue, she called her doctors "fantastic."
"They always said they would be able to replace my tongue with a new one, but it was nerve-racking," she told SWNS. "There was 29 people involved in the operation. When I woke up I was a bit disoriented but I could talk straight away. It felt like I had something strange in my mouth."
COLORADO WOMAN PENS 'BREAKUP' NOTE ON FOOT BEFORE AMPUTATION
She said she avoids foods that are too hot to avoid burning her new tongue and is hopeful that doctors can replace her teeth. She is slowly transitioning to eating solid foods, including salmon and potatoes, SWNS reported.
"I have to think before I eat now, and I have to wash my mouth out," she told SWNS. "I can't just do or eat what I used to. I have to think about talking. I have to make sure I don't bite my tongue because I can't feel bits of it."
CLICK HERE TO GET THE FOX NEWS APP
Smith told the news outlet that she is now cancer free.