Mom claims tattoo removal left her with horrific scarring
A mom claims she has permanent scars and was left looking like she'd been attacked by "flesh-eating bugs" after having a tattoo removed.
Stephanie Lynn, 28, had a skull and roses inked on her left arm seven years ago but wanted to get the "embarrassing" art removed before she ties the knot next year.
NEWLYWED BRIDE SUFFERS STROKE DURING NYC HONEYMOON: REPORT
The mom-of-two booked an appointment with cosmetics company Fresh Faced in Glasgow to have the tattoo removed.
But after just two visits to the clinic, based at Royston Dental Practice, Glasgow, Lynn claims her arm was "fried" and became severely infected.
Lynn, from Parkhead, Glasgow, said her hand swelled to four times its normal size, she couldn't straighten her arm and was left with agonizing puss-filled blisters.
Lynn went to the GP to get help for the excruciating pain and was prescribed antibiotics for the infection.
She later called NHS24 where she was referred to a nearby medical center where doctors confirmed the infection.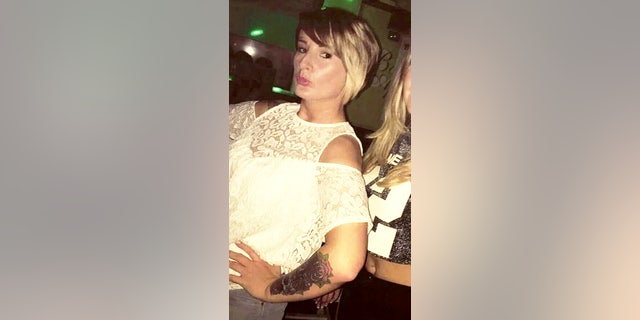 Now Lynn says she may be forced to postpone her wedding as the permanent scars have ruined her confidence
"When I got the tattoo I was just young and stupid," Lynn, who underwent laser removal surgery in July and September, said. "I went to get it removed it and had a patch test which went fine. I put numbing cream on a couple of hours before it and when I got my first lasering I really didn't notice much. But the second time I went, it was just horrific. I knew something wasn't right.
"The girl who was doing it left me in so much pain," she said. "It felt like she was burning my arm, a completely different feeling compared to the first time I did it. It was unbearable, my arm was on fire. The girl put soothing gel over the top but after two days, my arm got swollen, it was like four times its size."
MAN DIES FROM EXTREMELY RARE DISEASE AFTER EATING SQUIRREL BRAINS
"I couldn't straighten my arm," Lynn said. "I know it's normal to have swelling but not like this, it was worse. It's like an electric shock went through my arm. It looked like flesh-eating bugs had attacked it - it looked horrible."
Lynn claims when she reported the infection to Fresh Faced she was told to go to their pharmacy.
There she was given Epaderm cream to keep her skin moisturized and Dermol wash and says followed all the correct aftercare instructions.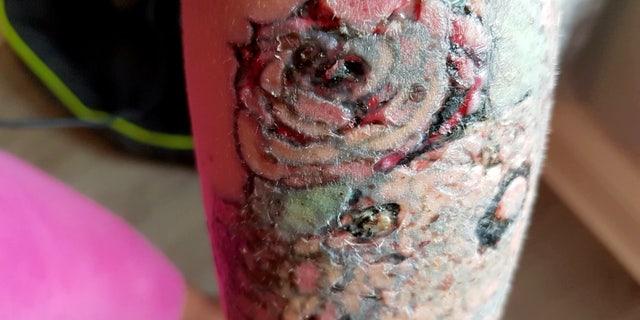 Lynn claims she has been emailing Fresh Faced back and forth and has requested the tattoo removalist certificates and their insurance details.
But the mom to Chloe, 8, and 3-year-old Hollie, says she has not heard back from the firm for three weeks.
And now she fears she may need to postpone her wedding.
"This has completely ruined my confidence. I'm always wearing long sleeve tops now," she said. "This has been so horrible, even driving my kids to school has been so difficult - something as simple as changing gears in your car. I just don't want anyone else to experience what I've gone through. My youngest daughter didn't want to come near me because of the scarring. She was terrified."
Fresh Faced was contacted for a comment but a spokeswoman has said they cannot comment on the issue.