Mississippi firefighter feels 'normal' again 1 year after face transplant

In 2001, volunteer firefighter Pat Hardison was left with third-degree burns on his head, neck and upper torso after suffering a devastating on-duty accident. He lost his ears, lips, most of his nose and virtually all of his eyelid tissue. Today, a year after a 26-hour face transplant -- the most extensive ever performed -- the Mississippi man is thriving.

"There are no more stares, no more frightened children running away from me. I'm pretty much just a normal guy," Hardison said in a news release shared Wednesday by the New York University (NYU) Langone Medical Center. "Now, I want to help others to pursue this type of surgery, especially fellow firefighters and members of the armed services. There definitely is hope."
Hardison's transplant made headlines last year. The procedure reportedly cost upwards of $1 million and required a team of more than 100 medical professionals.
Hardison's body has never attempted to reject his new face, an unprecedented achievement, according to NYU. Hardison's new eyelids also function normally, enabling him to blink, which allows his body to hydrate and clean the eyes to prevent infection and improve vision.
"I can't tell you what a sense of freedom it is to even drive my kids to school," Hardison said in the release. "We recently went on a family vacation to Disney World, and I swam in the pool with them— something I hadn't done in 15 years."
Since returning home to Senatboia, Mississippi, in time for Thanksgiving, Hardison has undergone several additional procedures, mainly to adjust his new eyelids and lips, and remove the feeding tube from his abdomen and the breathing tube from his trachea.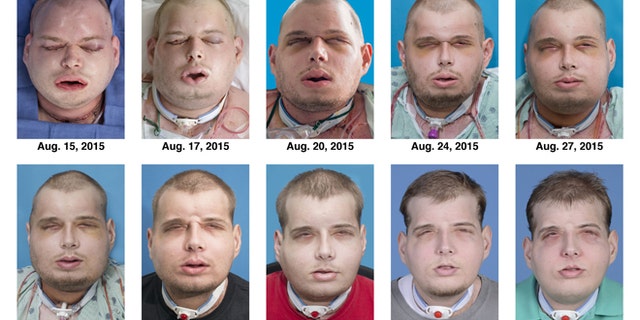 The lack of rejection can be attributed to the surgical teams' methodical approach to find a favorable match, which allowed the team to reduce the levels of certain anti-rejection medications, lead surgeon Dr. Eduardo D. Rodriguez, chair of the Hansjörg Wyss Department of Plastic Surgery at NYU Langone, said in the release.
Surgeons also chose to include some of the donor's facial bone structure and chin, which provided natural bone marrow stem cells that helped the transplanted face function well after the procedure.
"Pat has been incredibly compliant with his post-surgical regimen, and that has allowed us to expedite his surgical schedule," Rodriguez said in the release. "He is extremely committed to daily exercise, taking his medications, and meeting with his physicians regularly. All of this has put him way ahead of schedule in terms of getting to the optimal level of recovery and appearance."
Hardison plans to meet the family of his donor, David Rodebaugh, this fall.