Minute of hard exercise as good as 45-minute workout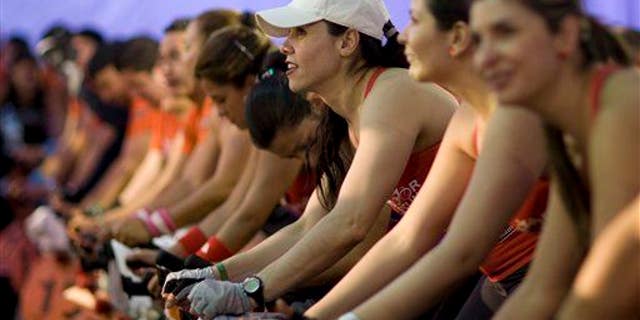 NEWYou can now listen to Fox News articles!
"Most people cite 'lack of time' as the main reason for not being active," professor of kinesiology Martin Gibala says in a press release. But that's no longer a valid excuse for not getting in better shape.
According to a study published Tuesday in PLOS One, Gibala and fellow researchers have shown that just one minute of go-for-broke exercising is as beneficial as a 45-minute moderate workout.
"If you are someone, like me, who just wants to boost health and fitness and you don't have 45 minutes or an hour to work out, our data show that you can get big benefits from even a single minute of intense exercise," Gibala tells the New York Times. Researchers split 27 "sedentary men" into three groups. The first group continued not working out as usual, the second group did 45 minutes of moderate pedaling on a stationary bike plus five minutes of warm-up/cool-down, and the final group did 10 minutes of sprint interval training. That training included just the aforementioned one minute of intense exercise: three 20-second intervals of pedaling as hard as possible, which alternated with two two-minute recovery periods of very slow pedaling and five total minutes of warm-up/cool-down. Both exercising groups worked out three times a week for 12 weeks and showed nearly identical improvements in their health and fitness. (This man lost 70 pounds eating nothing but potatoes.)
This article originally appeared on Newser: Study: Minute of Hard Exercise Just as Good as 45-Minute Workout
More From Newser