Mexico City fights obesity by offering free condoms and transportation for 10 squats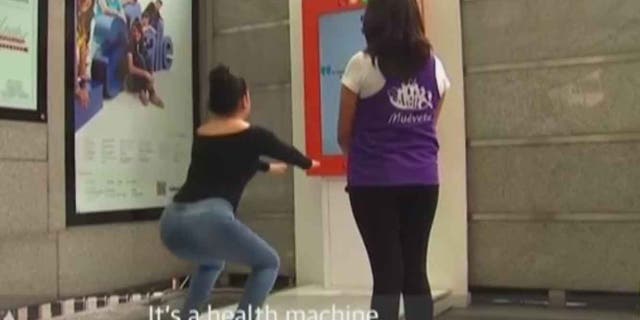 NEWYou can now listen to Fox News articles!
If there ever was an incentive to work out, Mexico City has probably hit the nail on the head.
The Mexican capital is now offering free subway or bus tickets in exchange for 10 squats. And if the train ticket is not necessary, then the 10 squats can be exchanged for a pack of condoms.
The new program is part of a broader effort to battle the growing obesity problem in the country.
The squats are measured by machines that, once the workout is completed, shoot out a slip redeemable for a train or bus ticket — or the condoms, Milenio newspaper reported.
The program started out at 15 stations across Mexico City, with 30 machines donated by FEMSA, a Mexican multinational beverage and retail company.
"The idea is that people go and get the message about being active," Armando Ahued, health secretary for Mexico City. "We will also be offering free medical check-ups."
Mexico faces the most acute obesity crisis in the Americas, with 70 percent of adults overweight or obese, according to Mexico's National Institute for Public Health. The problem costs the Mexican economy an estimated $5.5 billion in 2008, and if the problem is not addressed, the figure is expected to hit $12.5 billion by 2017.
"If they don't start taking care of themselves, they can develop things like diabetes … we cannot accept that," Ahued added. "It's a problem of high priority; it's the No. 1 health problem that affects this city and the country. The machines don't occupy a lot of space and won't be placed in areas that could be risky for uses."
The goal, he said, is for people to start incorporating physical activity to their daily lives.
In addition to the ticket or condom exchange, health officials will be giving out 80,000 pedometers to people who use the machines.
This new health campaign is part of a continuous program that has included the installation of more than 600 free outdoor gyms around the city.
"We are calling for people to start moving, the best vaccine for obesity is called exercise and a lifestyle change," Ahued said after trying out the machines.
Like us on Facebook
Follow us on Twitter & Instagram