Measles outbreak at AZ immigrant detention center spread by workers, officials say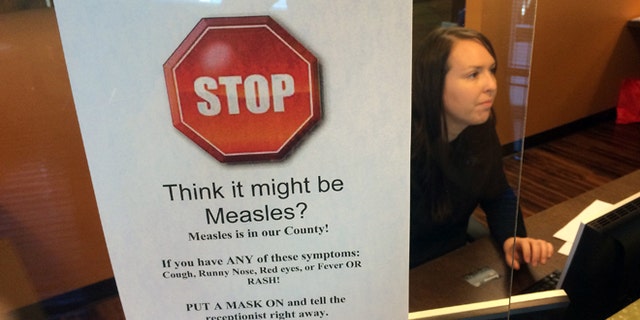 NEWYou can now listen to Fox News articles!
At least 22 cases of the measles have been confirmed in southern Arizona since late May, and all of them can be traced to the Eloy Detention Center, a facility overseen by the Immigration and Customs Enforcement (ICE) agency.
The health director for Pinal County, Thomas Schryer, told the Associated Press that the viral disease most likely was brought into the facility by an immigrant being held there, but that it was likely that unvaccinated workers at Eloy that were infecting others.
Schryer explained that all the detainees now have been vaccinated by detention center staff. The workers are another matter.
"They're actually the ones that are passing along the measles among each other and then going out into the community," Schryer said.
There are about 1,200 detainees at Eloy, along with some 350 employees of the private Corrections Corp. of America (CCA), which runs the facility for ICE, along with an unspecified number of ICE agents.
The agency doesn't make public its staffing figures, but Schryer estimated that at Eloy it was around 100 people.
Neither CCA nor ICE require employees to be vaccinated.
ICE spokeswoman Yasmeen Pitts O'Keefe told the AP that the agency has instituted measures to prevent the spread of the disease, including referring workers to health clinics, providing them with masks and gloves and handing out pamphlets about measles.
CCA said that most of its staffers either have been vaccinated or can provide proof of immunity to the disease. Those who haven't are being asked to either wear masks or remain at home.
According to the director of the Arizona Department of Health Services, Cara Christ, a large number of CCA employees were vaccinated last week.
"Once they understand how important it is and the outcomes it can have on the community, they tend to cooperate. So we hope to get a cooperative response from ICE," Christ said.
Measles was eradicated from the U.S. in 2000. Many of the cases that have popped up in the country in the last few years – including an outbreak traced to two Disney theme parks in Southern California – have been caused by or exacerbated by people opting out of the vaccine on the unfounded fear that it may cause autism.
The symptoms of measles are frequently quite mild but can be fatal in babies and infrequently do lead to more severe cases among adults.
Immunization efforts have been hampered by that, Schryer noted. One Eloy staffer spent four days in the hospital with the disease.
"To trigger a four-day stay," Schryer said, "you [have to] be pretty darn sick. It's not really something to play with, and maybe they just underestimated the seriousness."
Based on reporting by the Associated Press.
Like us on Facebook
Follow us on Twitter & Instagram