Mascara kept on for decades leaves 'embedded' lumps under woman's eyelids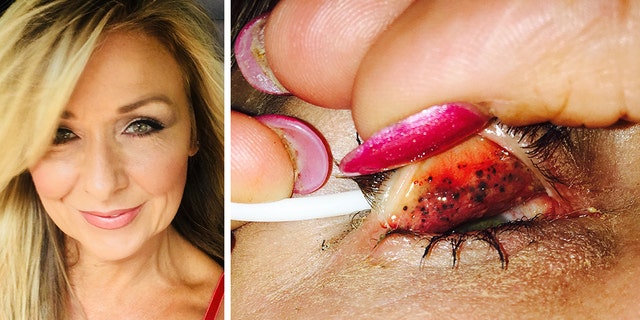 A woman who claims she nearly went blind after not washing her mascara off for more than two decades is warning makeup users about her "bad habit."
Theresa Lynch, 50, of Sydney, Australia, told the Daily Mail her eyes were irritated and discharging. She said she felt discomfort on the underside of her eyelids, so she made a doctor's appointment.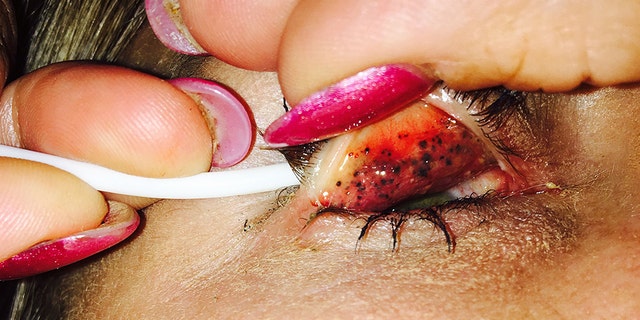 Lynch, who said it felt like she had some sort of buildup on her inner eyelids, learned she was suffering from conjunctival concretions, otherwise known as small calcified bumps or lesions.
"[The lumps] were embedded so deep that particles were building up on top of each other," she told the Mail. "I was so uncomfortable. My eyelids were swollen and heavy because I left it for so long."
10 TOXIC CHEMICALS TO AVOID IN EYE MAKEUP
The mother of two, formerly of Maryland, said her doctor, Daba Robaei, was shocked at the discovery and claimed she hadn't seen anything like it during the course of her career.
Robaei published a study in the American Academy of Ophthalmology confirming Lynch's condition, in which she detailed that the dark calcified bumps were found under her upper eyelids.
ALL NATURAL DIY RECIPES FOR YOUR COSMETIC NEEDS
"Every time Theresa was blinking these bumps were rubbing on the surface of the eye and they pose a risk to her vision," Robaei told the news outlet. "If the scratch on the surface of the eye got infected, there is a risk this could be a potentially blinding but that would be rare."
Lynch said her health was in danger because she "had fallen into a bad habit of wearing a lot of makeup and not washing it off," and is warning others that it's "so important to properly take your makeup off every single night. You can't miss a single day."