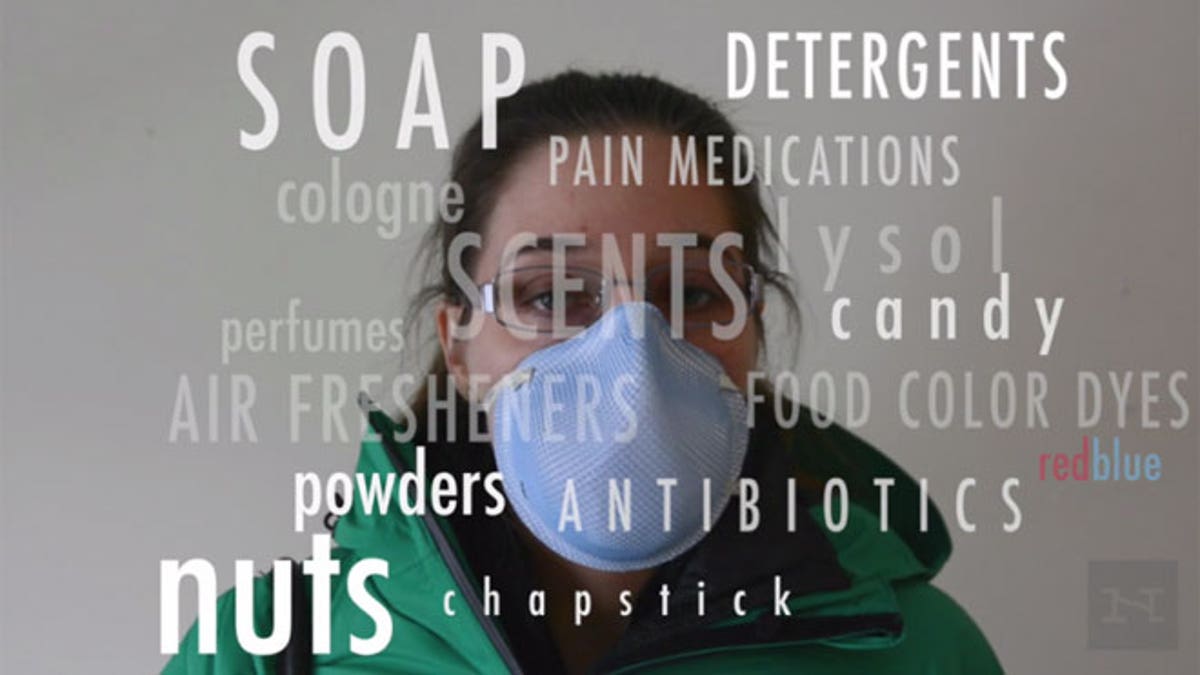 The condition, which has no known cure, causes severe allergic reactions that affect organ function.
"Most scents, Lysol, air fresheners, perfume, cologne, food color dyes, pain medications, antibiotics, candy, soap, ChapStick, powder …" Goodwin, of South Portland, Maine, rattles off the things she's allergic to in a video for Narratively. Among the other things she's allergic to: sunlight, latex, dust.
"Saying I'm allergic to the world is helpful too," she says in the video.
MCAS prevents Goodwin from maintaining a job and close physical relationships with friends, the Portland Press Herald reported. Her social life consists of daily workouts at a local gym that commits to using only unscented cleaners. The fitness center also works to keep potentially harmful allergens out of its facility.
Goodwin has befriended some of the employees at the gym, and working out regularly can help her maintain bone density and increase lung capacity, offsetting some MCAS side effects.
She lives with her grandmother in South Portland to reduce any potential risks of public life, but she is seeking a new apartment in hopes of gaining independence.
Goodwin was diagnosed with the disease at age 26.
"I define myself by my job, I define myself by my social life, I define myself by the things I like to do outside of the house— and those were all gone," she said in the Narratively video. "Everything was gone."
According to the Portland Press Herald, Goodwin has been hospitalized 30 times since 2011. Four times a day, she swallows a fistful of pills— medication that has reduced her hospital visits from once every other week to once about every six weeks, but the upkeep has led to credit card debt. She said she takes weeks to physically and mentally recover from a single hospital visit for an allergic reaction.
During a trip in an ambulance documented in the Narratively video, Goodwin must tell the EMT not to hook her up to certain nodes that track her vitals, Medical Daily reported. "I'm allergic to those," she says.
While Goodwin said relaxing has become a foreign concept since being diagnosed with MCAS, she counts herself lucky to be alive, she said in the video.
"Even though I'm not living maybe the life I wanted, I'm still living."
Click for more from the Portland Press Herald and Medical Daily.