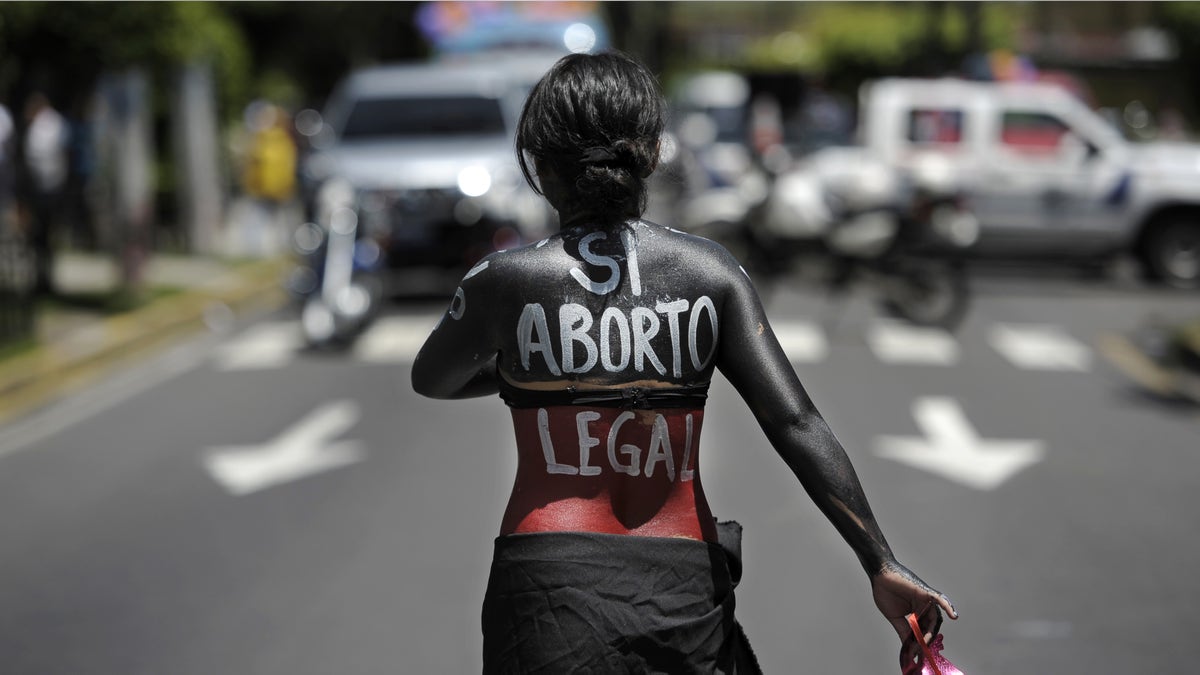 El Salvador has some of the most restrictive abortion laws in the Western Hemisphere, offering virtually no exception for the termination of a pregnancy – not for rape, incest, malformed fetus or danger to a woman's life.
The law is so strict that miscarriages and stillbirths are considered murder, and the woman can be sent to jail.
That's what happened to Guadalupe Vasquez, who became pregnant at 17 after being raped by a man in the neighborhood she worked in as a maid.
Vasquez decided to keep the baby, but her body had others plans, she told the Los Angeles Times.
In late 2007, pain shot through her back and abdomen, and she started bleeding. Her employer did not let her get medical care and – alone in her room – she went into labor.
Vasquez told the LA Times that she briefly heard her baby cry once before it died. Only then was she allowed to go to the hospital by her employer, who did not want to "deal with two dead in my house."
The teenager passed out from the ordeal, and when she woke up again, she found herself handcuffed to a state hospital bed.
While her rapist remained free, Vasquez was sent to prison with a 30-year sentence.
"I didn't understand what was happening," Vasquez told the paper. "[My court-appointed attorney] barely spoke to me. He didn't defend me in anything."
Vasquez is only one of many women in El Salvador who are sentenced to up to 50 years in jail, not for having an abortion – which is illegal – but for miscarriages or stillbirths.
In these cases, prosecutors have accused the would-be mothers of causing the death of their fetus or infants, the LA Times reported.
The Salvadoran Citizens' Coalition for the Decriminalization of Abortions reports that 129 women have been prosecuted between 2000 and 2011 for "abortion" crimes with 23 women convicted of getting an illegal abortion and 26 convicted of murder.
Activist Sara Garcia said laws in El Salvador reflect a general "hatred of women" and mostly harming women who are poor and uneducated – like Vasquez, who never made it past the third grade.
"We live in a misogynist, machista society … with prejudices about how a woman should behave and the punishment she would receive for not fulfilling those expectations," she told the newspaper. "There is no presumption of innocence."
Activists and a team of lawyers have taken up cases like Vasquez and other 17 women demanding their release and have petition pardons.
Vasquez, now 25, was granted the first pardon earlier this year by a divided legislature, who determined she was denied due process in her original hearings. Her new attorney, David Muñoz, said she was a victim of a "witch hunt on women."
Vasquez served 7 years and 3 months.
El Salvador's abortion law gained national attention in 2013 with the case of a woman identified as Beatriz.
The 22-year-old suffered from lupus and was several months pregnant with her second child when doctors diagnosed the fetus with anencephaly. It was born without part of its brain and would not survive.
Beatriz sought to be allowed to terminate her pregnancy, even appealing her case all the way to the country's supreme court. It was denied, effectively forcing her to carry the baby to term, regardless of the baby not surviving and it being a danger to her.
The de facto compromise was a caesarean section in June 2013 when the fetus was 27 weeks. The baby died five hours later.
El Salvador's abortion laws date back to the two-decade reign of the conservative Arena party. In 1998, conservative religious groups, including the Opus Dei and the Catholic Church, successfully campaigned to constitutionally that declare life began at conception.
The stayed in place even after the leftist Farabundo Marti National Liberation Front won the presidency in 2009.
International organizations have asked El Salvador to relax its abortion laws, with the World Health Organization estimating that more than 35,000 women in the country get unsafe, clandestine abortions every year.
El Salvador is not the only country in Latin America with such strict abortion statutes – Nicaragua and three other countries have similar laws in the books.
Vasquez said that her time in prison changed her for both good and for bad. The bright side, she said, was that she earned her high school degree and can aspire to do more than just be a maid in someone's home.
"The lawyers helped me a lot, but they can only do so much," she said. "Now it's up to God."