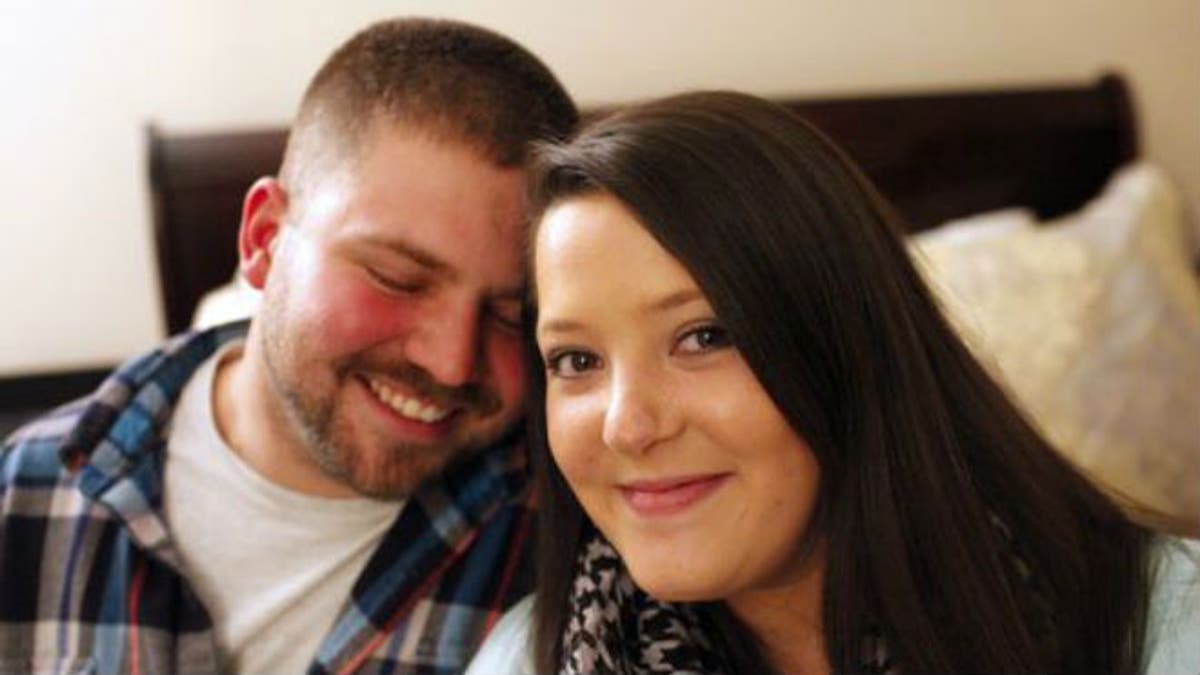 For one Kentucky woman, an act of kindness turned into an unexpected romance after she donated her kidney to a stranger— and they fell in love.
Ashley McIntyre, 26, donated a kidney to Danny Robinson, 26, in April 2014 and the two fell in love, leading to an engagement that Christmas, The Courier- Journal reported. The couple, who live in Louisville, Ky., is now expecting their first child in June.
"I never in a million years imagined this would happen. ... It was a whirlwind," McIntyre, holding Robinson's hand as her eyes filled with tears, told The Courier-Journal. "It's crazy how it all worked. It was all planned out by God."
McIntyre first heard of Robinson's story through her mother, who heard it on the radio, and his story touched her deeply.
He was so young and had lost his father to cancer, McIntyre told The Courier-Journal. "It was devastating."
She reached out to the radio host by Facebook and soon was in contact with the University of Kentucky's (UK) transplant program. After undergoing pre-transplant testing, doctors found that McIntyre was a very close match, newspaper reported.
UK transplant coordinator Todd Maynard told the Courier-Journal that only 1 percent of living kidney donations come from strangers.
Maynard said the then-strangers' kidneys were "a match but not a perfect match. ... A perfect match is very rare, 1 out of 100,000."
When McIntyre knew the procedure would happen, she, Robinson, and their relatives agreed to meet at a local Cheesecake Factory Restaurant.
"We all clicked immediately," she told The Courier-Journal. "They told me I would always be a part of their family."
McIntyre and Robinson stayed in touch via text over the next month and spent time together during fundraisers others held to cover their expenses.
On April 17, they went to UK for the double procedure and were placed in pre-op rooms side by side. The surgery was successful, with no complications and left McIntyre with one kidney and Robinson with three— hers working beside his two non-functional ones.
McIntyre visited his hospital room after she was released and they signed one another's blue-and-white kidney-shaped hospital pillows. He wrote: "Words cannot express how much (you've) done for me," the report said.
According to their transplant surgeon, Dr. Malay Shah, Robinson's lifespan is now at least 25 to 30 years, up from the average lifespan for someone on kidney dialysis, which is 15 years. Shah expects Robinson to live longer than that.
After they were both released from the hospital, the two stayed in touch and their romantic relationship started after a Memorial Day family barbeque.
"It was really clear early on that this was 'it,'" McIntyre told the newspaper.
On Christmas Day, Robinson proposed while they were opening gifts at McIntyre's mother's house.
The expectant couple have yet to set a date for their wedding, but are looking forward to meeting their daughter, buying a home, and eventually having more children, the Courier-Journal reported.
With his new kidney, Robinson said he has 10 times more energy than he had prior to the transplant.
"I feel great, better than I've ever felt," he said. "I have more of a life."