Infant recovering from 'significant' brain damage after softball accident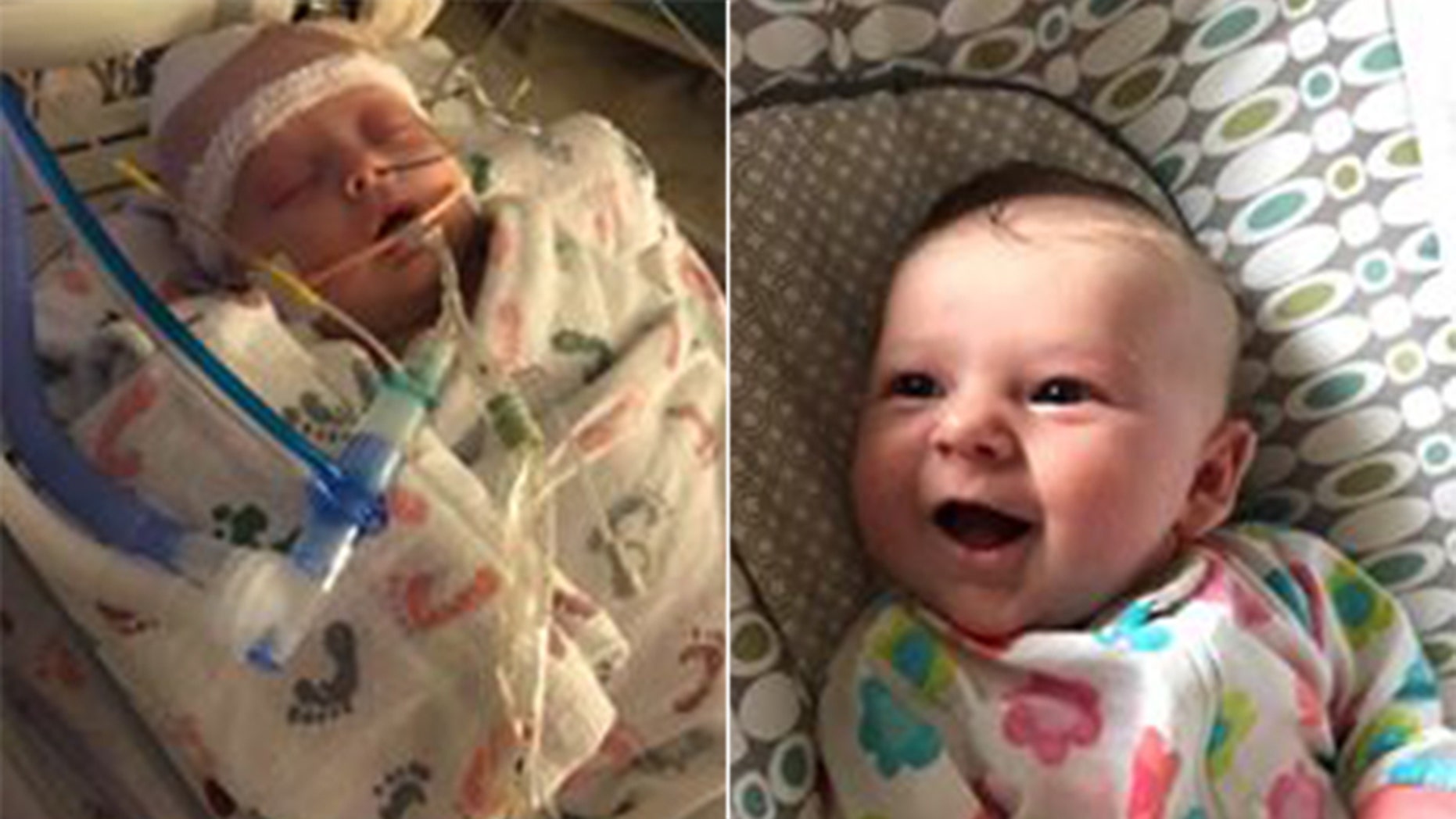 The weeks-old infant who suffered a severe head injury after she was hit in the head by a softball at her dad's game two weeks ago appears to be recovering from "significant" damage in one area of her brain.
McKenna Hovenga, who was 7 weeks old at the time of the accident, has been hospitalized at the Mayo Clinic in Rochester, Minn., since May 2.
The family has been keeping supporters updated on the "Healing for McKenna" Facebook page.
"McKenna is doing fantabulous! Her chest x-ray is looking better and they aren't getting as much mucous out when they suction," her mother Laura wrote on the page.
Laura described McKenna's recovering condition and said "it was so good to see!"
"Today when they rolled her to her side, she peeped at us more than she has been. It was so good to see those eyes!" Laura wrote. "You can definitely tell when she is in her awake period because she flutters her eyelashes, flares her nostrils and purses her lips!"
At Mayo Clinic, doctors have been treating her for skull fractures, brain bleeds and seizures. The head of neurology identified the two areas of the brain where the seizures are occurring, according to the Facebook page.
"The grim news is that they feel that the brain damage in one area is 'a lot' and the brain damage of the other area is 'significant,'" the May 11 post read. "These areas affect a large portion of the brain, with a good portion having to do with motor skills and development. Exactly what we're looking at? We won't know until she is fully awake. Deep breath."
Another posting said that McKenna's parents, Lee and Kassy, had moved into a Ronald McDonald house so that they could be close to their daughter, and that the new mom was given the chance to hold her baby for the first time in 10 days on Sunday. It also said doctors were concerned about McKenna's blood pressure and heart rate dropping, and asked for prayers that the baby tolerated an anti-seizure medication.
The family set up a P.O Box for supporters who have letters, cards and baby gifts sent to McKenna. They also thanked strangers who dropped off food and cards at the hospital. A relative identified as Laura created a map to track where all of the letters and gifts are coming from.
"I cannot tell you how overwhelmed Kassy, Lee, and our family has been at all the comments on our Map for McKenna yesterday!" Laura posted on Sunday. "Wow! Just wow! Going through all the comments is going to keep me busy for a while! We really truly had no idea that our girl has the love and prayers of so many! You may say that McKenna and our story has touched you… Well, I'm here to tell you that ALL OF YOU are touching us is in a way that we cannot begin to put into words – and people who know me personally will tell you that that doesn't happen to me very often."
Laura said she was especially touched with letters from children.
"Especially the 6 and 7 years olds from Wylie, Texas who showed us "the Wylie way" with their cute drawings and sweet words," Laura wrote.
More than $58,000 have been raised to help the family cover medical expenses.
Fox News's Amy Lieu contributed to this report.