How to protect your hair from sun, chlorine and salt water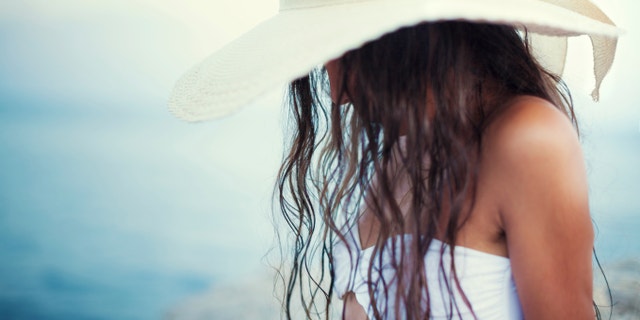 Sun. Chlorine. Salt water. The best parts of summer can leave our hair a complete mess come Labor Day. Our locks take a beating during the warmer months, leaving strands dry, color-faded, frizzy, and greasy. Even air conditioning can do a number on hair.
So what gives? Is there any way to keep our hair healthy and still enjoy a dip in the pool? Luckily, there are plenty. We tapped New York City-based hairstylist Nathan Rosenkranz to understand what happens to our hair during the summer, what we can do to fix it, plus a few ways to rehabilitate our hair come fall.
RELATED: 11 Genius Summer Beauty Tips to Combat Sweat and Humidity
Lock in moisture
Sun exposure, salt water, and sweat can pull moisture from your strands, leaving them dry and prone to breakage. To avoid this, "start with wearing a nice wide brimmed hat to keep the sun off of your hair," Rosenkranz said.
This will help keep the sun's rays off your hair, thus protecting your hair from dryness and preserving the color (with the added bonus of protecting your skin!). Double up by using a product that both moisturizes and shields your hair from UV rays. Rosenkranz recommended Bamboo Beach Summer Sun Recovery Spray from Alterna Haircare ($22; sephora.com).
RELATED: 6 Nutrients for Healthy Hair
Create a shield
"In the summer we're more frequently exposing our hair to the chemicals in pools, salt water, and spending more time in the heat, all of which will strip your hair of its beautiful color," Rosenkranz said.
Before going for a swim in the pool or ocean, he recommended wetting your hair completely and thoroughly applying a leave-in conditioner.
"Your hair will absorb the conditioner instead of the chlorine or salt water," he said.
Try EverPure Damage Protect Leave in Treatment from L'Oreal Paris ($9; amazon.com), which is sulfate-free and also works to restore damage.
RELATED: 11 Products For Perfectly Air-Dried Hair
Fight frizz
The key to combating frizzy hair is locking out the humidity.
"Humidity is like Miracle Gro for flyaways," Rosenkranz said, "so anyone who is prone to frizzy hair will be suffering extra during the humidity brought on by summer showers."
You can do this with an oil, like Oleo Miracle Replenishing Oil from DESSANGE Paris ($12; target.com). It's loaded with three oils—argan, camelia, and pracaxi, which work together to leave your hair both smooth and soft.
Hide grease
A sweatier body leads to greasier hair.
"When it's hot, your scalp sweats, transferring the naturally occurring sebum throughout the hair more, which can cause the hair to look greasy," Rosenkranz said. "Not a good look!"
To fix this, he recommends using an absorbent dry shampoo, like Batiste Dry Shampoo ($6; amazon.com).
RELATED: The Surprising Habit That's Destroying Your Hair
How to rehab hair after summer
If you haven't spent the summer protecting your mane from the sun and surf, you can repair damaged locks once the weather starts to cool.
"First, look for good treatments," Rosenkranz said.
He has been recommending Caviar Moisture Intense Oil Crème Pre-Shampoo Treatment ($30; sephora.com) to revitalize your hair. You apply the treatment 15 minutes before shampooing. "In addition to boosting the moisturizing benefits of your existing shampoo and conditioner regimen, it moisturizes to revitalize dehydrated strands, leaving hair supremely smooth, soft, and shiny." The big takeaway here: moisture!