How to buy the best running shoes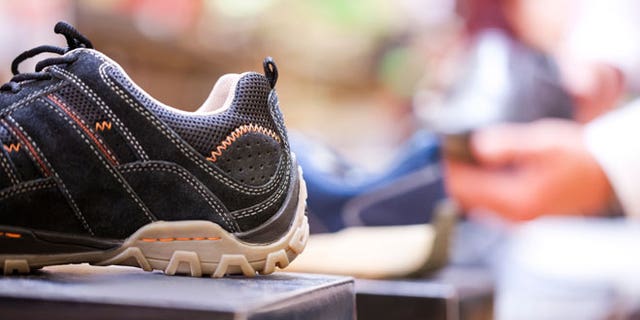 After you stare at a wall of running shoes for awhile, they all start blending together: the garish colors, the suspicious layers of gel, the absurd and vaguely mythic names. But at this time of year, we're all dying to get outside and stretch our legs with the first runs of spring. So we called up a gang of runners—from Olympians to coaches to a famed podiatrist (because in 2015, even podiatrists can be famous)—and asked them all for advice on picking out new shoes.
RELATED: 25 Foods for Better Skin
Molly Huddle, Olympian and winner of the 2015 New York City Half Marathon (Providence, Rhode Island)
"Over the years I've realized you want a little extra room in your shoe, both width- and length-wise—I haven't had my usual battles with plantar fasciitis since trying a wider shoe size and going up half a size. It's also important that the shoe cradles your mid-foot comfortably. Be careful testing out any extreme model of shoe: If it is much more minimal and lighter (or more built up and heavy) than what you are used to, don't dive into a long run with it right out of the box."
Favorite Shoe: "My constant favorite is the Saucony Kinvara. It's cushioned, but with a lower heel-toe offset and arch lock so you can do anything from a speed workout to a long run in them. And I travel with them so I can pack lighter."
Robert Tierney, rheumatologist at Park Nicollet Health Services and runner of 89 marathons (Twin Cities)
"Don't go looking for a shoe on a weekend in a crowded running store. Go during off hours, when you can find someone who can really help you. Make sure they have a good return policy, and wear them at home for a while. You want a cushioned shoe that's lightweight, stable, a great fit, good colors, and is inexpensive. [Laughs.] Good luck!"
Favorite Shoe: "I'm currently stuck on the Asics Gel Kayano. They're well cushioned for an older and 'heavier' runner, and seem to have a long-lasting cushioning midsole that I can run long distances in while avoiding injuries. Once you know the shoe you want, you may be able to find them online at a cheaper price, although I once got two left feet in the box."
RELATED: Fall in Love, Lose Weight
Matt Taylor, Co-founder and CEO of Tracksmith (Boston)
"I start the process with style. There are so many ugly running shoes on the market, it narrows down to the least offensive choices."
Favorite Shoe: "Honestly, I'm still searching. I've gone through phases, though. The original Adidas Oswego and original Nike Hurache were incredible. I ran in the Saucony Jazz—yes, the Saucony Jazz—and Asics Cumulus for a few years. And the first iteration of the PUMA Faas 500 was a great shoe. I still have a few pairs in my closet. There's one shoe I'm dying to try, but can't track it down—it's a shoe made by master craftsman Hitoshi Mimura."
RELATED: 6 Most Important Foods to Cut From Your Diet
Dathan Ritzenhein, three-time Olympian (Grand Rapids, Michigan)
"I believe it's a good idea to buy multiple types of shoes to rotate. The expense is bigger up front, but you still end up with the same amount of mileage in each shoe. Some days, particularly after a hard workout, I need something with extra support."
Favorite Shoe: "I love the Nike Zoom Pegasus. It has been around forever and is a great standard and neutral shoe, with a soft ride and great transition."
RELATED: 9 Things Every Man Should Have in His Pockets
Dennis Barker, Team USA Minnesota coach (Twin Cities)
"The first thing I want to feel when I put on a shoe is whether the arch fits naturally and comfortably into my arch. If it doesn't, there's a good chance it could cause problems—such as blisters—down the road. Or it might be the wrong size. (It seems that sizing can vary even within a single brand.) Next, I want to feel that my toes have a comfortable amount of room, with enough additional room in front to expand when I'm up on my toes at the end of each stride. But I also want the shoe to feel snug around the mid-section.
Now comes the test drive.With the shoes on, I'll walk slowly, deliberately putting each foot through the same motion as when I'm running: planting the heel and rolling forward to the toe. I want make sure that the shoe will roll the way my foot wants it to for both support and comfort. If it does, it's a sale."
Favorite Shoe: "I don't have any loyalty to a particular brand. My loyalty is to my own feet and legs."
RELATED: Hottest Women of the 21st Century
Amol Saxena, renowned sports podiatrist and surgeon (Palo Alto, California)
"Comfort is the No. 1 factor; not too tight and not too loose. The heel should be snug and the insole outline should match your foot. You can hold it up to the mirror with your foot superimposed—if you see your foot extending beyond the insole, the shoe will be too narrow."
Favorite Shoe: "I like the Nike Pegasus because it is a neutral cushioned shoe. I have knee arthritis. Many people erroneously recommend motion control shoes for knee pain, but more shock absorption is needed. That is why I often recommend Hoka Shoes. They are great for most types of knee pain, big toe joint, and mid-foot arthritis."
RELATED: The Secret to To Burning Fat Fast
Jordan Metzl, sports doctor, Ironman, and author of the forthcoming book Running Strong: The Sports Doctor's Complete Guide to Staying Healthy and Injury-Free for Life. (New York City)
"Here are the top three fit factors: (a) snug around the heel, (b) a thumb's width of space between your longest toe and the top of the shoe, and (c) snug but not tight in the toe box, so you have a little wiggle room. And if it ain't broke don't fix it! Many people spend their lives looking for the right shoe—once you have found her, never let her go."
Favorite Shoe: "I'm a huge Adidas fan. They fit me well and I love the Boost technology. I'm all about it!"