Honolulu quintuplets make it home for Christmas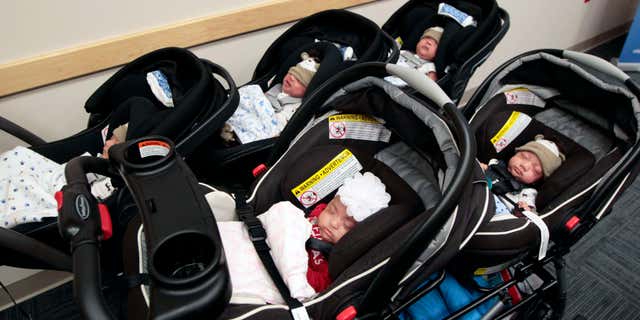 Quintuplets who were born premature in Honolulu in October finally got the opportunity to spend Christmas at home, instead of in a hospital.
The four boys and one girl were born on Oct. 10 and doctors said the babies would need to remain in the hospital for up to three months to allow their lungs to fully develop.
Two of the babies were able to go home Dec. 13 and another was sent home on Monday. The final two were released from the hospital Thursday.
Identical boys Kapena, Kaolu, Keahi and Kupono and girl Kamalii are Hawaii's first surviving set of quintuplets, the Honolulu Star-Advertiser reported.
"It's definitely the best Christmas gift we could have gotten, to have them home for Christmas," mother Marcie Dela Cruz told reporters Thursday from Kapiolani Medical Center for Women & Children.
Marcie and her husband Ray, also have a 2-year-old son named Makaio. He was conceived through in vitro fertilization, and the couple set aside several embryos for further children. In April, they learned two of the embryos transferred, hoping to give their son a sibling.
"We didn't set out to make history," the mother of six said. "We were just blessed with these babies, and they're doing so great."
The babies weighed less than 3 pounds each when they were born but are now up to between 5 and 8 pounds.
"It's just amazing to see this happen and to see the success," said Dr. Charles Neal, medical director of the hospital's neonatal intensive care unit. "The thing on everybody's mind in our (unit) was just get them the best outcome possible, and I think that's what we did."
The nurses and specialists who have been caring for the infants are "the mommies that the babies know," Dela Cruz said. "It's kind of bittersweet to take them all away from what they've known for the past two months. But they're my babies, so I can now be their mommy."
The Associated Press contributed to this report.