Homeless teen gifted car by man battling brain tumor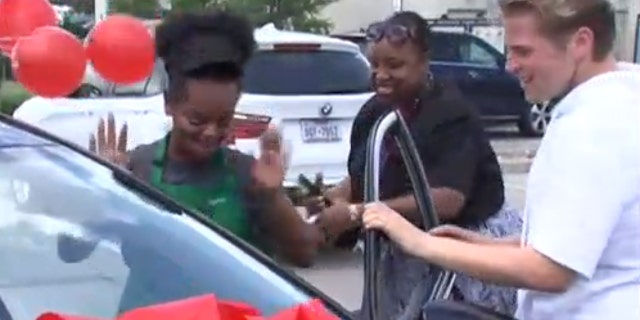 NEWYou can now listen to Fox News articles!
A Texas teen who has maintained above-average grades while facing homelessness and abuse was given a reason to smile earlier this week when a man battling a brain tumor gifted her with a car. Sionna Brenn, a senior at a Houston-area high school, was working her shift at a Starbucks on Wednesday when Charlie Jabaley popped up out of a dumpster with balloons.
Behind Jabaley, who left his successful music management company following his diagnosis, was a new Toyota Corolla with a big red bow on it, Fox 26 Houston reported.
NEVADA GIRL THROWS OUT FIRST PITCH AT ROCKIES GAME USING ROBOTIC HAND
"More than anything, glory to God because I wouldn't be here without Him," Brenn, who hopes to study dentistry at University of Texas San Antonio next year, told Fox 26 Houston.
Brenn arrived in the U.S. from Ethiopia and was adopted at 9 years old, but she said the situation was abusive. She said her belief in God helped her through her darkest times.
Her story reached Jabaley, who is currently on a cross-country "Dream Machine Tour" looking for people to help. Jabaley, who at the height of his career was 2 Chainz manager, started his mission after discovering that the brain tumor he has had since childhood started growing and stopped responding to treatment.
"Everywhere we go, we're looking for people who have dreams and how we can help them," Jabaley said.
As part of his journey to help others, Jabaley has dropped 130 pounds and completed several marathons.