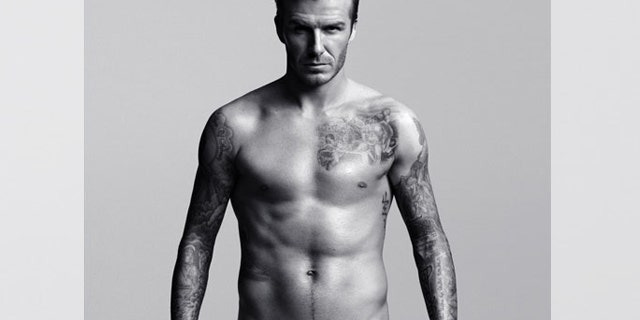 1. David Beckham
If this is the first time you're seeing David Beckham in his underwear, you're welcome.
The 37-year-old soccer star, husband to former Spice Girl Victoria Beckham, and father of four launched David Beckham Bodywear for H&M collection this past February. The underwear line—for men—has women talking.
The line includes pajamas, long johns, Henleys, and T-shirts. David models all of these on the packaging (example pictured), and—well, have you ever purchased something solely for the package? This is one of those things.
But—alas—he's taken. David's been married for 13 years and is still going strong. His secret? "To love and respect one another and work hard," David says. "And you always need to give the other person attention and make sure to show them how much you love them."
The 25 Fittest Female Celebrities

2. Hugh Jackman
He entertained us as a magician in The Prestige, made us swoon when captured Meg Ryan's heart in Kate & Leopold, and he's sure to wow us in The Wolverine—out July 26, 2013. Hugh Jackman—seen in this sneak-peek photo from the upcoming flick—is one of our fittest favorites.
Looking this good, though, doesn't happen without hard work and heavy iron. When Hugh's getting into "Wolverine" shape he eats a thousand calories more a day than he would normally. And he trains really hard. "I crank up the Godsmack and Metallica. I yell and scream," Hugh told Men's Health magazine in a previous interview.
The Top Workout Songs of All Time

3. Chris Hemsworth
Fan-favorite Chris Hemsworth was not always this muscular. "It wasn't until Thor that I started lifting weights. It was all pretty new to me," he told Men's Health magazine in a previous interview. Before that, he was a sports junky. He surfed as if it were his religion; he boxed; and he even played Australian Rules Football, a combo of soccer and rugby.
We're rooting for Chris no matter the sport or role! And when Thor: The Dark World comes out in 2013, we'll be front and center admiring his talents.
The One Thing You Need to Get a Tight, Toned Body

4. Matthew McConaughey
Adding the word stripper in front of Matthew McConaughey's name can make any woman blush. "Let's go get in great stripper shape!" Matthew told Men's Health in a previous interview. "That's part of what these guys do for their job. Every day, [they go] to the gym … [Your] body is [your] temple, and [your] business. If [you're] not in shape, [you're] losing money. You don't get tips if you've got a beer gut."
Based on the condition of his "gut" in this flick—Matthew would probably do alright in the tips department.
4 Workouts for a Flat, Toned Belly

5. Mario Lopez
Back in elementary school, most girls were in love with either Zac or Slater from Saved By the Bell. Years later, Slater—we mean, Mario Lopez—still has the ability to make us now-grown women swoon.
Men's Health checked in with this über-fit star to try and steal some of his secrets. One of our favorites: "Sure, health and fitness are big priorities for me, but I'm also a big believer in the cheat meal," Mario says.
His favorite splurge: Beer Queso Nachos. Dig in.
A Stress-Relieving Yoga Routine

6. Ryan Gosling
Emma Stone said it best in Crazy, Stupid Love, "Seriously? It's like you're Photoshopped!"
No, he's all real.
Ryan's current regimen, among other things, includes grueling two-hour Muay Thai MMA training sessions as the 31-year-old actor prepares for his role in Only God Forgives and The Gangster Squad. To help him maintain his lean physique, Gosling's trainers have also prescribed a traditional Thai diet of green vegetables, rice, and fish.
Hot-Body Yoga: Sculpt Sexy Muscles on the Mat

7. Channing Tatum
We first noticed Channing Tatum's impressive physique during She's the Man (admit it: that movie was surprisingly entertaining!). Fast forward to Magic Mike. We really don't have to say much. The picture does most of the talking.
We had heard that Channing was a male stripper before his acting career took off—and we respect that. After seeing his stripper skills, we really respect that.
There's been talk that stripping could some day become an Olympic sport. Channing, that gold medal has your name on it.
More from Women's Health:
Stay-Slim Tips from Hayden Panettiere, Star of ABC's "Nashville"
22 Motivational Workout Mantras