He's 16 and he's gigantic: Meet world's tallest teenager
A British boy, who stands at 7 feet and 4 inches, is making headlines as the tallest teenager in the world, according to SWNS.
Brandon Marshall is 16 years old and is still growing.
"People stop him, asking for photos with him," his mother, Lynne Quelch, told the news service.
Quelch said her son, who loves basketball and plays for the Wales National Team, is shy and introverted.
"When people notice his height, he says 'Oh, here we go again, yes I am tall, yes I am Britain's tallest teenager'," the 49-year-old mother said.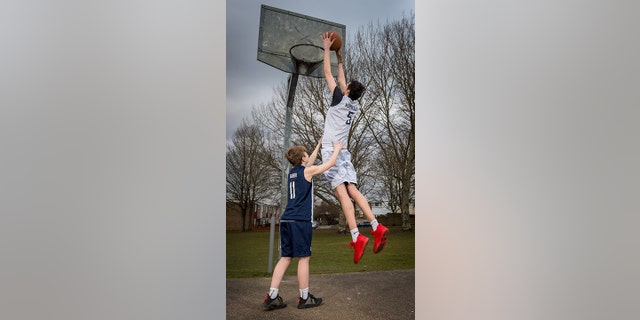 TALLEST BASKETBALL PLAYER IN NORTHEAST OHIO IS
7-FOOT-7 TEENAGER
Brandon shot up 5 inches from last year, when he was 6 feet 11 inches tall. "I was normal size up until the age of 9," he explained. "I then had a big growth spurt. I was about 6 feet when I was about 13 [years old] and I started to grow a lot more by then."
"When I was in year nine [at school] I got to 6 feet, 7 inches; and in year 10, I got to 7 feet."
Brandon, who trains three times a week with the team, is getting ready to play his first professional tournament in Lithuania.
The 7-feet-4-inch teen has been able to slam dunk since the age of 13.
His mother said, "All the good colleges that have good basketball academies attached to them are all fighting over him as to who will get him. He absolutely loves it."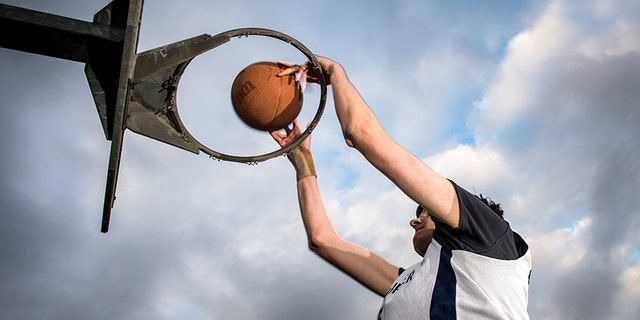 His height, however, can sometimes pose a problem, "He does tend to struggle with roofs, ceilings, doorways — just everything normal-size people take for granted," his mom shared.
She added, "He has got a super king bed at the moment, but we are having one made for him."
7-FOOT-TALL MICHIGAN TEEN CAN'T STOP GROWING
Because of his size, Brandon consumes 8,000 calories a day, and Quelch said she is "constantly shopping to keep the fridge stocked."
Doctors in England are trying to learn more about the teenager's height. He tested negative for Marfan syndrome ꟷ a genetic disorder of connective issues ꟷ but a genetics team is still investigating why the 16-year-old is reaching such dramatic heights.
Brandon is just 3 inches shorter than 7-feet-7-inch Paul Sturgess from the U.K., who currently holds the title for Britain's tallest man.  The American Robert Pershing Wadlow, who is 8 feet, 11 inches tall, has the title for the world's tallest man.