Herbalife settles pyramid scheme case with regulator, in blow to Pershing's Ackman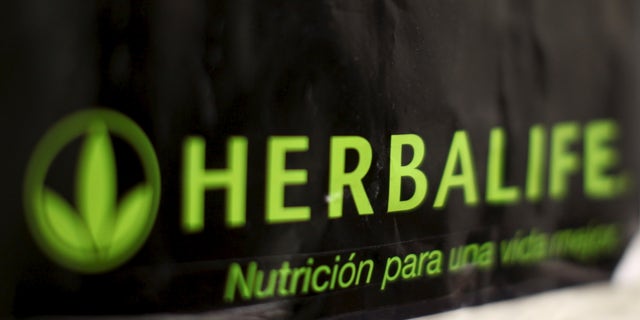 NEWYou can now listen to Fox News articles!
Herbalife Ltd agreed to a $200 million settlement with U.S. regulators on Friday, under which the dietary supplements maker will change the way it does business and avoid being labeled a pyramid scheme, a blow to hedge fund manager Bill Ackman who for years has been betting against the company.
The Los Angeles-based company's shares jumped 14.5 percent in early trading on Friday, after the settlement was made public and the company said its board had cleared the way for billionaire investor Carl Icahn to boost his stake in the company to up to 35 percent from his current 18.3 percent.
Herbalife sells nutritional supplements for weight management and sports in the form of tablets and shake mixes through a massive network of people acting as independent distributors. The sales method, under which some people get more money for recruiting new distributors than selling products, has attracted criticism.
The U.S. Federal Trade Commission opened a probe into Herbalife in 2014 following allegations by Ackman that the company was effectively a fraudulent pyramid scheme.
The FTC said Friday's settlement represented a fundamental change in how the company operates, as it will require rewards to distributors to be based on retail sales rather than recruiting new distributors.
Herbalife, however, said that the terms of the agreement does not change its business model.
Icahn and Ackman were involved in a public war of words over their opposing bets on the company, with Icahn famously calling the hedge fund manager a "liar" and a "crybaby" in a CNBC interview in 2013. They have since made up.
Ackman's Pershing Square Capital Management unveiled a $1 billion short bet against the company in 2012.
The settlement comes a day after Ackman said he was still betting against Herbalife shares and that the FTC probe was unlikely to end well for the company.
Icahn said on Friday it was time for the company to consider strategic opportunities, including potential roll-ups involving competitors, referring to a series of mergers that consolidate a sector.
"While Bill Ackman and I are on friendly terms, we have agreed to disagree (vehemently) on this subject. Simply stated the shorts have been completely wrong on Herbalife," Icahn added in a statement on Friday. (bit.ly/29Im6SB)
TOUGH TO IMPLEMENT
The agreement will be difficult to implement, said Robert FitzPatrick, who formed Pyramid Scheme Alert in 2000 to monitor and oppose pyramid schemes.
"Herbalife has agreed and the terms of the agreement are a devastation of the way they operate right now," he said.
Potential difficulties in implementing the changes lie in how the company will differentiate between different classes of buyers: those who buy for personal use, or to distribute; and how to define what constitutes a "legitimate end-user," FitzPatrick said.
Herbalife said that Jon Leibowitz, a former chairman of the FTC, would advise the board of directors regarding compliance with the settlement. Another former FTC commissioner, Pamela Jones Harbour, is already a senior vice president at Herbalife, working on compliance.
SETTLEMENT TERMS
Herbalife said it had agreed to restructure its U.S. business so that distributors are rewarded for what they sell, not how many people they recruit.
The company will pay distributors based upon retail sales and provide receipts for their transactions, it said.
"Herbalife is going to have to start operating legitimately, making only truthful claims about how much money its members are likely to make, and it will have to compensate consumers for the losses they have suffered as a result of what we charge are unfair and deceptive practices," FTC Chairwoman Edith Ramirez said in a statement. (bit.ly/29I0D0a)
At the end of June, about a quarter of Herbalife's outstanding shares were held by short-sellers, according to Thomson Reuters data.