Fisher-Price Recalls More Than 10 Million Toys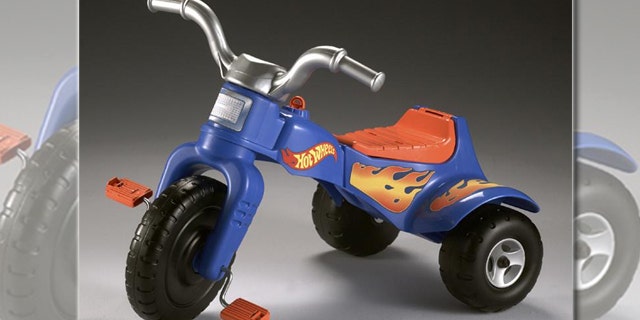 NEWYou can now listen to Fox News articles!
Fisher-Price is recalling more than 10 million tricycles, toys and high chairs over safety concerns in Canada and the United States.
Officials said about 420,000 of the items were sold in Canada, where one child was injured on a high chair.
The U.S. Consumer Product Safety Commission said Thursday that two of the products being recalled involved injuries.
Click here for complete list of the products from Fisher-Price.
Click here for more information from the CPSC.
The recall covers about 7 million Fisher-Price Trikes and Tough Trikes toddler tricycles – with 150,000 in Canada – the agency is aware of 10 reports of children being hurt. Six of them required medical attention.
The trikes — some of which feature popular characters like Dora the Explorer and Barbie — have a protruding plastic ignition key near the seat that children can strike, sit on or fall on, leading to injuries that the commission said can include genital bleeding.
Fisher-Price is also recalling more than 1 million Healthy Care, Easy Clean and Close to Me High Chairs, after 14 reports of problems. Seven children required stitches, the commission said.
The pegs on the back of the high chairs can be used to store the tray, but children can fall on them, resulting in cuts and other injuries.
CPSC Chairman Inez Tenenbaum said manufacturers need to do more to build safety into their products before they reach store shelves. But she also offered praise for Fisher-Price for "taking the right steps by agreeing to these recalls and offering consumers free repairs or replacement."
The two other Fisher-Price recalls were:
— More than 2.8 million Baby Playzone Crawl & Cruise Playground toys, Baby Playzone Crawl & Slide Arcade toys, Baby Gymtastics Play Wall toys, Ocean Wonders Kick & Crawl Aquarium toys, 1-2-3 Tetherball toys and Bat & Score Goal toys. The valve of the inflatable ball on the toys can come off and pose a choking hazard to children, said CPSC. The agency said there were more than 50 reports of the valves coming off the balls.
— About 100,000 Fisher-Price Little People Wheelies Stand 'n Play Rampway toys. The wheels on the purple and green cars can come off, posing a choking hazard.
Consumers can visit the company's website at www.service.mattel.com for more information on the dates of sale and model numbers for the recalled products.