Family of brain-dead Jahi McMath sues to have her declared alive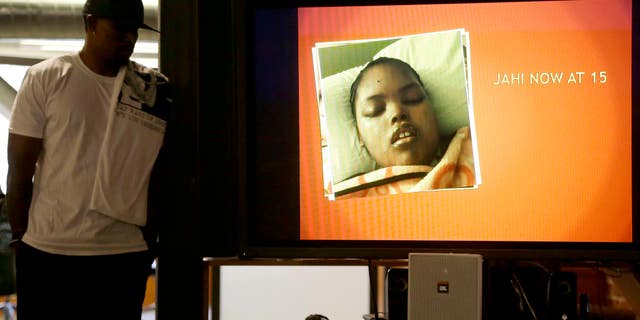 It's been two years since Jahi McMath's tonsil surgery went wrong, she suffered brain death, and was declared dead, and now her family wants that death certificate revoked for the now-15-year-old who remains on life support.
Jahi's mom, Nailah Winkfield, is suing in federal court various entities that include the state of California to have her daughter declared legally alive, reports Courthouse News Service.
She "wishes to have her daughter's basic human right, to life, restored to her so that she can return to California" from New Jersey. Jahi is currently under care in the latter state, which allows a religious exemption to rulings about brain death, notes CBS News.
"I want her to have the same rights as any other disabled kid," says Winkfield, per the AP. Should Jahi leave New Jersey without such a declaration, per the suit, "she could be refused treatment, unplugged, even shot, without repercussion as she is legally dead in California." Getting the death certificate overturned would allow the family to move Jahi back to Oakland and have insurers cover her medical bills, the family attorney tells AP.
Winkfield says in her lawsuit that Jahi shows signs of life, including what she calls "uncontroverted and overwhelming" evidence of brain function, and has begun to menstruate.
A California state judge earlier this year upheld the death certificate; her family's lawsuit against the hospital that performed the tonsillectomy brutally detailed the surgery gone wrong.
This article originally appeared on Newser: Jahi McMath's Family Wants Her Declared Alive
More From Newser