Fake Tinder account 'Nurse Nicole' encourages men to see a doctor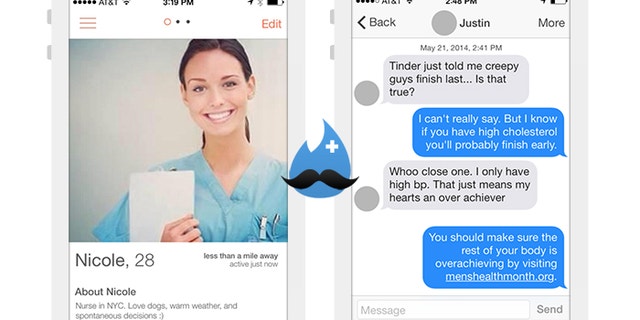 NEWYou can now listen to Fox News articles!
Looking for a way to encourage men to be more proactive about their health? Try infiltrating one of the places men frequent: the online dating site Tinder.
That's the idea behind a new social media campaign called Matches for Men's Health, aimed at getting men to receive regular medical check-ups from their doctors, Boston.com reported. In order to spread this message, two advertising interns have created a fake Tinder profile for a woman named "Nurse Nicole," who adamantly reminds potential suitors to get examined for prostate cancer, testicular cancer, high blood pressure and more.
"For the month of June, Nicole is enduring terrible pick-up lines, facing extreme male desperation, and talking dirty to dirtbags in the name of men's health," according to the Matches for Men's Health website.
Vincent Mark and Colby Spear, creative interns for the digital marketing company Razorfish, launched the campaign together to raise awareness for Men's Health Month and Men's Health Week, which runs from June 6 through June 15. Both Mark and Spear work to operate Nicole's account, and whenever the attractive nurse receives a salacious text through the site, Mark and Spear have a number of statistics about men's health on hand, so they can quickly reroute the conversation.
"Steering the conversations towards men's health was a fun challenge for us," said Spear. "As a copywriter, I regularly have to think of funny lines for ideas, and Vince is just always a witty guy. We thought of responses to the pickup lines on the fly."
According to Nicole's profile, she seems like a pleasant person, who "loves dogs, warm weather, and spontaneous decisions." However, Nicole's profile picture is simply a stock image and her persona is completely fictitious, the creators said.
So far, the account has spurred some interesting conversations, with some men expressing interest in discussing their health issues and others who remain completely oblivious and continue to flirt away.