Ebola survivors' brains abnormal 6 months post-infection, study finds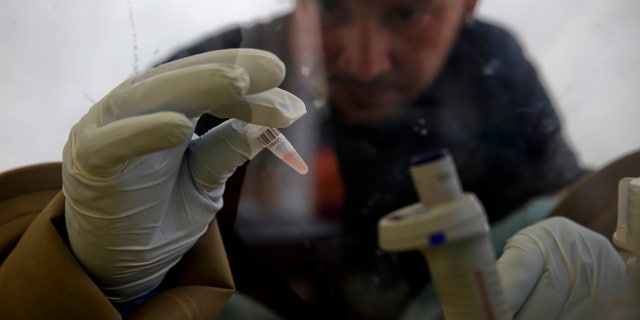 NEWYou can now listen to Fox News articles!
Days after a Scottish nurse who recovered from Ebola was readmitted to the hospital for the third time, researchers have released a report that suggests most survivors have brain markers for the virus more than six months after initial infection.
The nurse, Pauline Cafferkey, reportedly suffered life-threatening brain complications after being infected with Ebola, leading doctors to readmit her to the hospital 10 months after she first recovered. Cafferkey was not part of the new study.
Scientists presented preliminary findings from their research Wednesday at the American Academy of Neurology's annual meeting. Conclusions were drawn from the Prevail III study, an ongoing study that is following former Ebola patients and their close contacts, who serve as study controls.
Researchers monitored 82 Liberian Ebola survivors with an average age of 35. They found most of the survivors had some neurologic abnormality at least six months after their infections were confirmed. The most common ongoing problems were weakness, headache, memory loss, a depressed mood, and muscle pain, according to a news release.
Two of the participants were suicidal and one had hallucinations. Examinations indicated patients experienced tremors, as well as abnormal eye movements and reflexes.
Researchers are still evaluating the study's control participants to determine which of the findings are specific to Ebola.
"While an end to the outbreak has been declared, these survivors are still struggling with long-term problems," study author Dr. Lauren Bowen, of the (NIH) National Institute of Neurological Disorders and Stroke (NINDS) in Bethesda, Maryland, and a member of the American Academy of Neurology, said in the release. "It is important for us to know how this virus may continue to affect the brain long term."
In November 2015, Dr. Richard Sacra, who contracted Ebola while working in Liberia in 2014 and was declared virus free, reportedly suffered lingering eye inflammation. Dr. Ian Crozier, another American who contracted Ebola and was cleared of the virus, also had serious eye problems, including his eye color changing from blue to green.
In August 2015, WHO experts said survivors who fought off the most severe bouts of infection are most likely to suffer ongoing medical issues.
The 2014 Ebola outbreak in West Africa infected over 28,600 people, according to the World Health Organziation. As of a Feb. 17 WHO report, more than 11,300 people had died.