Dog with cancer to reunite with family 2 years later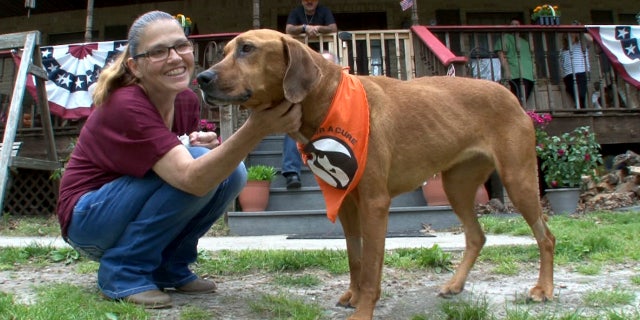 A dog found near death at a rest stop in New Jersey will be reunited with her family two years after she disappeared from their New York home. Five-year-old Cali, a Rhodesian ridgeback, was taken to Broken Promises Sanctuary weighing under 40 pounds and was nursed back to life.
"She was all but dead," Stuart Goldman, the sanctuary president, told Asbury Park Press.
MOM OF QUADRIPLEGIC GRAD STUDENT SURPRISED WITH HONORARY DEGREE
The sanctuary discovered that Cali's nose had been bleeding because of a tumor, and later determined that cancer had spread through her nose and behind her eyes. They found a treatment center in Pennsylvania are raising money through a GoFundMe to help cover the $18,000 bill. The treatment shrank her tumors, and veterinarians gave her between a year and 18 months to live.
During examinations vets, discovered that Cali had a microchip and tracked down her family, who was shocked to hear she was found. Brittney DiBartolo, Cali's owner, told Asbury Park Press she was sobbing uncontrollably when she found out. The family had left New York in 2016 and relocated to North Carolina.
DAD DIES AFTER EATING GAS STATION NACHO CHEESE; 9 OTHERS HOSPITALIZED
"It was kind of hard to leave New York and not have Cali with us," DiBartolo told Asbury Park Press. "I assumed someone picked her up and kept her because she was such a good dog."
Cali is set to reunite with her family next month as she continues her recovery.