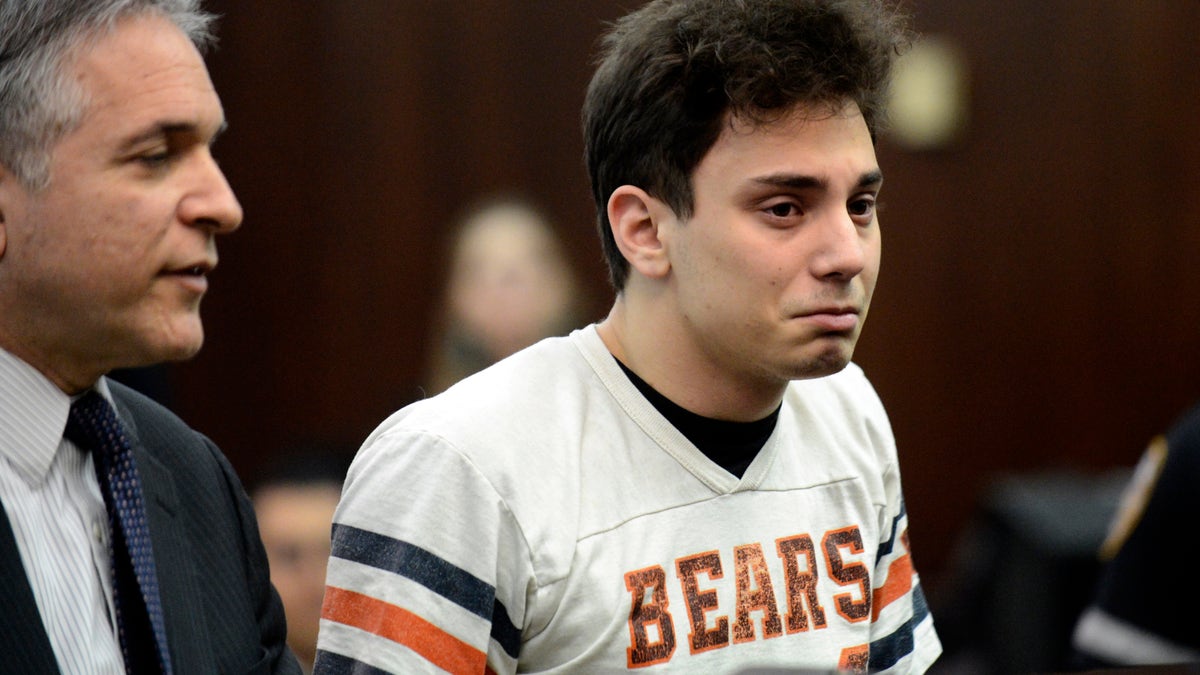 A 19-year-old is being held at a New York City jail without bail in the murder of his mother, and his attorney says the boy's medical condition is behind the killing.
Henry Wachtel's mother, Karyn Kay, called 911 last Tuesday to seek help for her son, who was having a grand mal seizure.
According to the New York Post, sources said while Kay was making the call, Wachtel turned on her, and allegedly beat her to death inside their midtown Manhattan apartment.
Kay is heard screaming "Help! Help! He's attacking me! Help!" on 911 recordings.
And later on the recordings -- "Mommy, mommy, please don't die."
Wachtel's attorney, Lloyd Epstein, said his client suffers from epilepsy.
"His mother called the police because he was having a seizure; it was not the first time she had called the police for (one of his) seizures," Lloyd said. "It was a grand mal seizure, that's uncontroverted. Most people understand that Henry didn't intend to harm his mother, and this all happened during the midst of an epileptic seizure."
One medical expert, however, who spoke to FoxNews.com said when someone is having an epileptic seizure, he or she would likely not be able to commit a crime.
'Not homicidal behavior'
"The seizure is a behavior they can't control," said nurse practitioner Patricia McGoldrick, associate director of pediatric epilepsy at Beth Israel Hospital in New York City, who has never treated Wachtel. "They would be thrashing around, the consciousness is impaired. If you are having a seizure -- that's what you are doing -- you are having a seizure. It's not homicidal behavior."
According to the New York Daily News, Epstein might hinge the defense on the drugs Wachtel was taking.
"Sometimes with medications unexpected things happen," Epstein told the paper.
But Epstein would not comment to FoxNews.com about the medicines his client was taking.
A police source told the Daily News that Wachtel, who is a student at Fordham University, was taking Lamictal and Keppra, which are anti-seizure medications.
McGoldrick said Lamictal is sometimes used to treat bipolar disorder, and its biggest side effect is a rash. Keppra is known for causing irritability, she added.
The source also told the newspaper that Wachtel suffered from bipolar and depression.
An article that appeared in Friday's New York Post quoted Wachtel as saying he knew the seizure was coming on, and then he lost consciousness.
McGoldrick said it's possible for some epileptic patients to have an aura before the seizure. An aura is a change in bodily sensations or changes in your ability to interact with things happening outside you, according to epilepsy.com. Other warning signs that can occur before a seizure may include depression, sleep disruption, nausea and headache.
However, McGoldrick said someone who has seizures frequently -- and that person's caretaker -- should have a plan in place for what happens during those episodes.
"You are supposed to turn them on their side, protect them from harm and let the seizure run its course," she said. "There are rescue medications to give if it goes on for more than a few minutes."
McGoldrick said a person who knows about seizures wouldn't have to make a phone call for help, unless the seizure was going on for too long – and the rescue medication was administered.
Epilepsy is "like a big burst of electricity in your brain, all at once," McGoldrick said. "The neurons all fire simultaneously."
McGoldrick said there are a number of ways a seizure can manifest itself -- from something as mild as the arm twitching and feeling a sense of déjà vu to staring spells to full-blown episodes where the patient is jerking and shaking (these are generalized tonic-clonic seizures, also known as grand mal seizures).
Patients who suffer from grand mal seizures lose consciousness, she said.
The New York Times spoke to Tatianna Kantorowicz, an aspiring filmmaker who cast Wachtel in one of her independent films.
Kantorowicz called Wachtel a "brilliant actor," and said he never indicated a violent streak.
There are 2.5 million people in the U.S. who have epilepsy, and often the cause of it is not known.