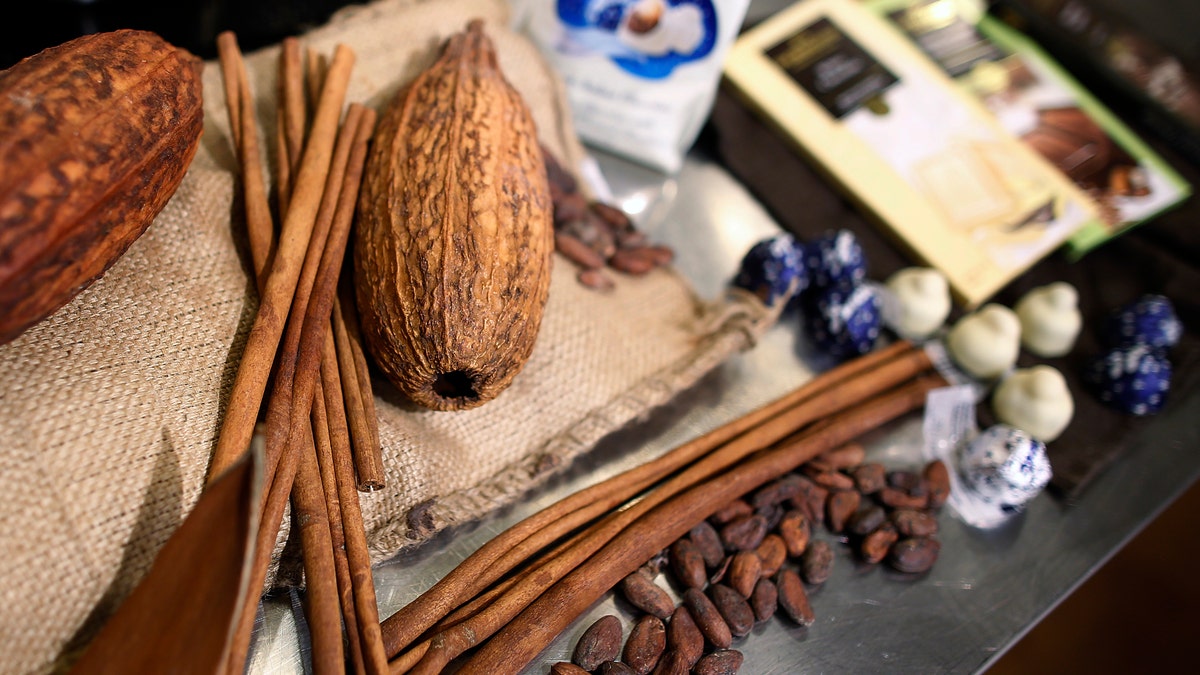 In an increasingly diet-conscious nation where the amount of chocolate candy sold has tumbled in recent years, a niche segment of the U.S. market is taking off: so-called "healthier" chocolate.
Studies declaring health benefits found in cocoa, combined with new chocolate products touting lower fat and calories, have helped manufacturers to capitalize on a growing consumer appetite for these alternative sweets in the United States, the world's biggest chocolate consumer.
Nestle USA says the lower-calorie chocolate line that it launched in 2011 was one of its snack division's best-ever debuts. A year later, Hershey Co brought out Simple Pleasures, a brand with almost a third less fat than average milk chocolates. The world leading maker of industrial chocolate for retail brand companies, Barry Callebaut, says products with health benefits now make up 5 percent of its sales.
Rising demand for these products is increasingly apparent in a recent improvement in the North American cocoa market, where demand slowed throughout much of 2012. A surprising turnaround was seen in the first quarter when "grindings", the term for processing cocoa beans which is shorthand for commercial demand, rose nearly 6 percent in North America, the biggest annual jump in nearly two years.
In Europe and Asia, first quarter grindings tumbled.
Also included in the supposedly better-for-you chocolate segment are bars that are gluten- or sugar-free, or that have additives like probiotics to help promote healthy digestion and other possible benefits.
Francisco Redruello, Euromonitor International senior industry analyst for foods in London said these "healthier" products are already having an influence on grindings.
"There's really a concern about obesity in the U.S. and this is having an impact on demand for chocolate confectionery," he said. "So 2012 has seen new concepts, new lines, trying to launch healthier chocolate with low fat."
The tonnage of reduced fat chocolates sold in the United States jumped 5 percent in 2012, outperforming the overall chocolate confectionary market, according to Euromonitor, an international consumer market research firm.
Euromonitor expects U.S. chocolate confectionery retail volume sales will improve and be flat in 2013, and said volume fell roughly 15 percent over the past five years after many companies reduced treat sizes.
Lower calorie and lower fat launches
The United States is the No. 1 chocolate-consuming country, though several European countries consume more per person.
About 13 percent of the world's annual cocoa production, just over 500,000 tonnes, is used for U.S. chocolate candy, according to U.S. Economic Census data analyzed by the National Confectioners Association (NCA). That accounts for two-thirds of total U.S. cocoa consumption.
"Today, it is increasingly about consumers weighing not only the costs of goods, but the multitude of benefits they offer as well," said Todd Hale, a senior vice president, consumer and shopper insights for Nielsen, which provides global consumer information and insights.
Nestle USA, a subsidiary of Nestle SA, expanded on its low-fat Skinny Cow frozen snack line with Skinny Cow Candy in 2011. In March, it added Divine Filled Chocolates to their line: 130-calorie pouches of three chocolate candies.
Tricia Bowles, communications manager for Nestle Confections & Snacks, Nestle USA, said this was one of the most successful new product launches in her 20 years with the division.
"We do not view these products as being healthy but fantastic alternatives to what you might eat when we all know we love chocolate," Bowles said.
Hershey states that its Simple Pleasures line contains 30 percent less fat than the average leading milk chocolates.
Swiss-based Barry Callebaut, which manufactures chocolate for large food companies like Hershey Co, Mondelez, Unilever, as well as bakeries and others, has also noticed the shift, said spokesman Raphael Wermuth.
Wermuth said the company sees rising demand for chocolates with "health benefits", such as chocolates with high flavonol content, which scientists have found to positively impact brain performance. Other chocolates that fall into this category include those with less fat or that are sweetened with refined sugar alternatives such as stevia.
Meanwhile, a recent study by global market research provider Mintel showed U.S. consumer preferences shifted away from milk chocolate toward dark chocolate, which is considered to have more health benefits.
Milk chocolate is still favored overall, and while Simple Pleasures and Skinny Cow have a small following among the diet conscious, they will remain a tiny niche.
"In general, people don't eat chocolate to feel well, they eat it to feel good," said Marcia Mogelonsky, director of Innovation and Insight at Mintel. "The last thing on most chocolate eaters' minds is health."