Dad who lost lips, limbs to horrifying infection gets new mouth made from shoulder skin, tattoo
A 38-year-old father who lost part of his face and all four limbs four years ago after contracting a number of infections has fought his way back from near death with the help of skin grafts and medical tattooing.
Alex Lewis, a pub owner in the U.K., said that he initially thought he had a cold, but was rushed to the hospital when his girlfriend noticed his skin was turning purple, Metro.co.uk reported.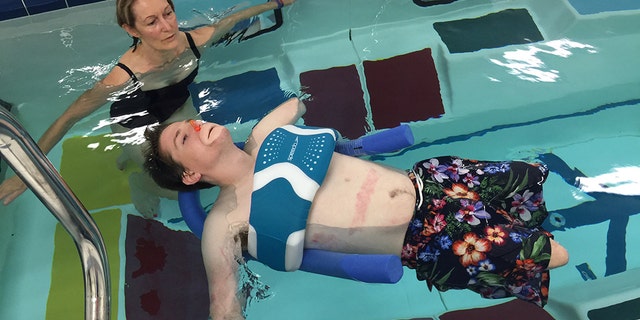 Lewis was reportedly diagnosed with toxic shock syndrome, blood poisoning and flesh-eating disease. Doctors reportedly gave him a 3 percent chance for survival.
"They were going to turn my life support off, but they wanted to give me one more night to see if I improved and they wanted to give my family a chance to say goodbye," Lewis told the news outlet.
3-YEAR-OLD BATTLING CANCER IS FLOWER GIRL IN BONE MARROW DONOR'S WEDDING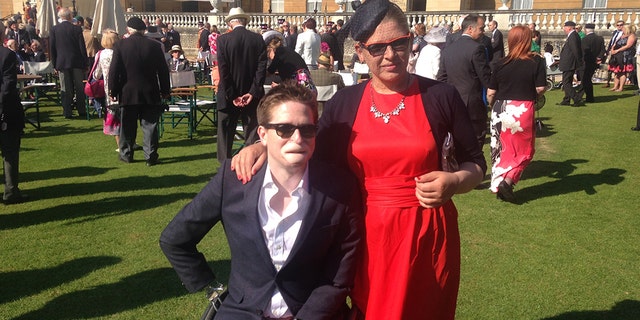 Lewis was transferred to Salisbury Hospital where he had all four limbs amputated, as well as the bottom part of his face. He said the transformation was difficult for his young son to comprehend, and that the boy ─ who was just 3 at the time of the surgery ─ mistook the dead skin on his face to be chocolate.
In order to assist with the healing, surgeons took skin from his shoulder to create a top and bottom lip, which was then tattooed to add the right color. He said the process was painful and he underwent six surgeries to on his face, Metro.co.uk reported.
Lewis is currently learning how to walk with the help of prosthesis while raising money for continued care and other amputees. He said his son has grown accustomed to his new looks, and that his hope is to continue life the way they did before.
"I don't want him to see me as someone who needs help, and because I am disabled I get to bring home some cool equipment for him to play with," he told the news outlet.