Dad dies after eating gas station nacho cheese; 9 others hospitalized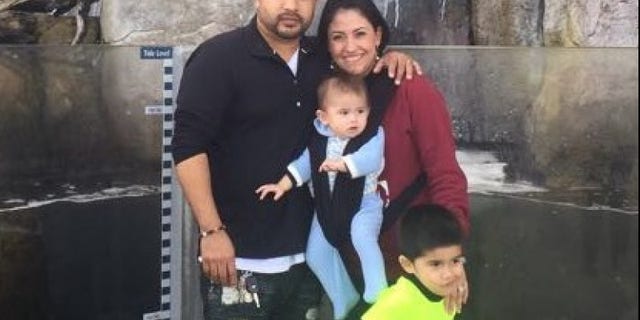 A 37-year-old father of two has been identified as the first fatality in a botulism outbreak linked to nacho cheese sold at a Northern California gas station. The outbreak, which killed Martin Galindo-Larious Jr., has hospitalized at least nine others, leaving one victim paralyzed, health officials said Monday.
"He was a great brother, a great father, always great with the nephews, and his own kids," Mario Galindo told KTVU of his older brother.
Galindo-Larious was taken off life support May 18 and died hours later. His family, which includes two sons who are younger than 5, said he had stopped at Valley Oak Food and Fuel in Walnut Grove last month while commuting to a job site in Sacramento.
NATHAN'S, CURTIS BRANDS INCLUDED IN MASSIVE HOT DOG RECALL
"That gas station was pretty much the midpoint between here and there," Mario Galidno told KTVU. "So I kind of figure he'd stop by, get a few snacks on the way back and forth, coffee, something to drink."
Tests by state health officials confirmed the botulism toxin in the nacho cheese, which was manufactured by Gehl Foods of Wisconsin, and officials say the affected product was removed from the gas station May 5. Matt Conens, a spokesman for the California Department of Public Health, declined to comment on the status of the gas station or if authorities were investigating the plant that the dip came from, KTVU reported.
Botulism poisoning can lead to paralysis, breathing difficulty and even death. Survivors, including victims of the latest outbreak, are forced to spend weeks or months on ventilators. Patients are being treated with an anti-toxin from the Centers for Disease Control and Prevention (CDC).
BANANA BOAT SUNSCREEN CAUSED TODDLER'S SECOND-DEGREE BURNS, MOM CLAIMS
"That's the scary thing about botulism — it's odorless and tasteless," Bill Marler, an attorney representing six of the victims, told KTVU. "The most likely thing is that it happened in some error at the assembly line at the cheese manufacturer."
Gehl Foods of Wisconsin CEO Eric Beringhause told KTVU in a statement that the company's facilities are safe and the company is working with investigators to determine what caused the outbreak.