Child's medicine, equipment destroyed in car fire on way home from 11-month hospital stay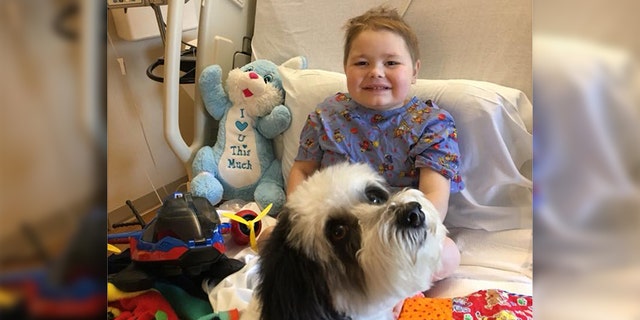 NEWYou can now listen to Fox News articles!
Strangers are rallying around a Wisconsin family whose car went up in flames while they were transporting their 5-year-old son home from the hospital.
Jaxson Oliphant, who has chronic kidney disease and lung issues, was traveling with his mom and 15-year-old brother last Saturday after ending an 11-month stay at Children's Hospital of Wisconsin.
Less than an hour into the six-hour journey home to Ashland, the family's car started smoking under the hood and they were forced to pull over.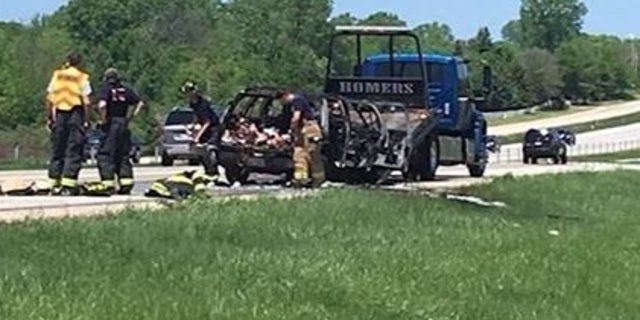 "The first thing I did was go grab Jaxson and Tony grabbed his wheelchair," Lindsey Oliphant, Jaxson's mother, told WISN 12 News. "Tony had to grab the three oxygen tanks before it exploded. We couldn't grab anything else. By that time the flames were up in the air."
RENOWNED TEXAS HEART TRANSPLANT PROGRAM SUSPENDS OPERATIONS AFTER PATIENT DEATHS
Jaxson ‒ who reportedly has already undergone two liver transplants, suffers from seizures, has chronic kidney disease and suffers from lung issues ‒ lost his medication and other equipment in the fire.
The family also lost the vehicle, which they need to make his monthly trips to the hospital, WISN 12 News reported.
"I just feel like I can't get a break," Oliphant told the news station. "At least the kids are OK. From Jax I've learned you can't take things for granted because it could be taken away with the blink of an eye."
A witness set up a GoFundMe for the family, which has raised over $48,000, while others have donated directly to a local bank.
The witness, identified as Jen Weston, said a car dealership has offered to help search for a new vehicle.