Children's Advil bubble gum flavor recalled due to overdose concerns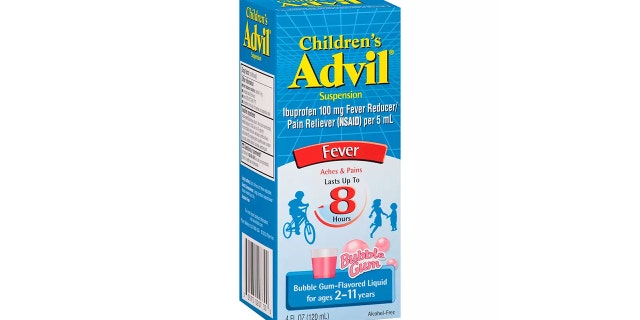 Heads up, parents: Children's Advil Suspension Bubble Gum flavor has been voluntarily recalled due to overdose concerns.
Pfizer Consumer Healthcare announced the nationwide recall on Monday. The recall of the medicine — which is used to treat minor aches and pains from colds, headaches and beyond — was sparked because customers complained the dosage cup was marked in teaspoons and the instructions on the label were measured in milliliters.
32 CHILDREN'S MEDICINES RECALLED OVER CONTAMINATION
"Pfizer concluded that the use of the product with an unmatched dosage cup marked in teaspoons rather than milliliters has a chance of being associated with potential overdose," the company wrote in a statement, adding that common signs of an ibuprofen overdose include nausea, vomiting, blurred vision and dizziness, among other symptoms.
Specifically, the recall applies to the bottle distributed between May and June of this year. The details of the recall are:
Children's Advil Suspension Bubble Gum flavored 4fl. oz. bottle
UPC #: 3-0573-0207-30-0
Lot #: R51129
Expiration Date: 11/20
MCDONALD'S, CHIPOTLE AND OTHER CHAINS WITH FOODBORNE ILLNESS OUTBREAKS: HOW TO STAY SAFE
Anyone with questions regarding the recall can call the Pfizer Consumer Healthcare Information Line at 1-800-88-Advil (1-800-882-3845).