Children should stay in rear-facing car seat 'for as long as possible,' experts say in new guidelines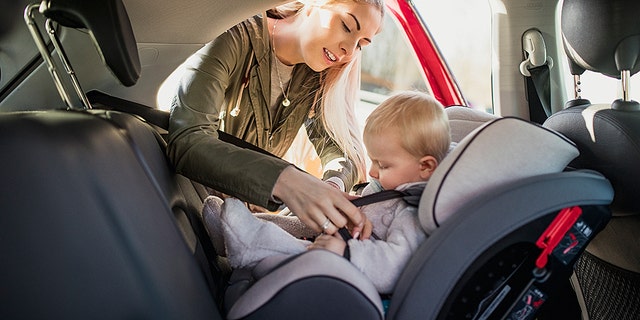 Heads up, parents: The American Academy of Pediatrics (AAP) has updated its guidelines on how long children should stay in rear-facing car seats.
Previously, the AAP said children should be transported in a rear-facing car seat until at least age 2. But on Thursday, the AAP announced children should remain in rear-facing car seats for "as long as possible," adding that "new recommendation removes the specific age milestone."
The change comes after a study that cited data "supported by biometric research, crash simulation data and experience in Europe where children ride rear facing for longer periods" came into question last year.
DETROIT SCHOOLS SHUT OFF WATER OVER HIGH LEVELS OF LEAD, COPPER
"A re-analysis of the data found that while rear-facing still appeared to be safer than forward-facing for children younger than 2, the injury numbers were too low to reach statistical significance. The AAP decided to update its recommendations to reflect how the science has evolved," the organization said.
"We just don't have a large enough set of data to determine with certainty at what age it is safest to turn children to be forward-facing," Dr. Benjamin Hoffman, chair of the American Academy of Pediatrics Council on Injury, Violence and Poison Prevention Executive Committee, added in a statement.
TEXAS NURSE FIRED AFTER ALLEGEDLY POSTING ABOUT TODDLER'S MEASLES DIAGNOSIS ON ANTI-VAX PAGE
Now, the AAP says most children should remain in a rear-facing car seat — which better protects a child's head, spine and neck, among other benefits — beyond their second birthday.
In light of the news, the AAP also released a few tips to help parents better determine when their child should move to a forward-facing car seat, to a booster seat and beyond.
Infants and toddlers should remain rear-facing until they "reach the highest weight or height" allowed by their seat
Children in forward-facing seats should remain in a "forward-facing car safety seat with a harness for as long as possible," the AAP said, noting that many car seats can "accomodate children who weigh 65 pounds or more"
Children should use a "belt-positioning booster seat until the vehicle's lap and shoulder seat belt fits properly," the AAP said, noting that "this is often when they have reached at least 4 feet 9 inches in height and are 8 to 12 years old"
Beyond these ages, the AAP says children should always use lap and shoulder seat belts and are better protected in the back seat than in the front