Child tests negative for Ebola at NYC hospital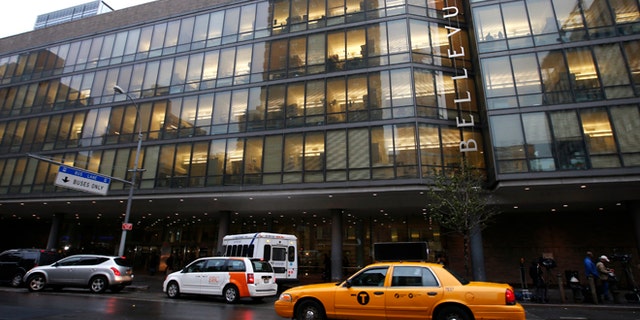 A child who recently returned from West Africa and was transported to Bellevue Hospital in New York City after exhibiting Ebola-like symptoms has tested negative for the disease, health officials say.
The 5-year-old returned from Guinea with his family Saturday and felt sick Sunday, so his parents called 911. Emergency responders in protective gear took him and his mother to the Manhattan hospital.
"The patient was transported by a specially trained HAZ TAC unit wearing Personal Protective Equipment (PPE). While a fever was initially reported, the patient was in fact not febrile when first examined at Bellevue," a statement from New York City Health and Hospitals said.
Officials say they'll do further tests in an abundance of caution and he'll stay at the hospital until those test results come back. His mother is doing fine.
Meanwhile, the city's first patient, a 33-year-old doctor who was treating Ebola patients in Guinea, received a transfusion of blood plasma Friday from an aid worker who was infected with the disease and later recovered.
Dr. Craig Spencer, who has been hospitalized at Bellevue since Thursday, received the donated blood from Nancy Writebol, a health care worker with the Christian organization SIM. Writebol was treated in August at Emory Hospital in Georgia.
"I am praying for Dr. Spencer's recovery and am happy to be able to donate blood," Writebol said, according to NBC News, which said SIM confirmed the donation Saturday.
Bellevue Hospital said in a statement Saturday that Spencer is "entering the next phase of his illness as anticipated with the appearance of gastrointestinal symptoms."
The hospital said Spencer is "awake and communicating."
In New Jersey, Gov. Chris Christie said a healthcare worker quarantined under an Ebola watch after she returned from Sierra Leone has been cleared by the CDC to go home.
Kaci Hickox, a Maine nurse who criticized her treatment as the first person to be quarantined under New Jersey's mandatory 21-day Ebola quarantine, tested negative for Ebola on Saturday and was being monitored in isolation at University Hospital in Newark. A statement from the state's department of health said Hickox remained symptom free for the last 24 hours.
"As a result, and after being evaluated in coordination with the CDC and the treating clinicians at University Hospital, the patient is being discharged," the New Jersey Department of Health said in a statement.
"After consulting with her, she has requested transport to Maine, and that transport will be arranged via a private carrier not via mass transit or commercial aircraft. She will remain subject to New Jersey's mandatory quarantine order while in New Jersey," the statement said.
Hilcox charged under the mandatory quarantine -- ordered by Christie and New York Gov. Andrew Cuomo Friday in response to Spencer's hospitalization -- that she was treated "like a criminal."
New York City Mayor Bill de Blasio called Hickox a "returning hero" and said she was "treated with disrespect" under the quarantine.
Hickox had access to a computer, her cellphone, magazines and newspapers and has been allowed to have takeout food, New Jersey Health Department officials told The Associated Press.
Cuomo later announced late Sunday that he had loosened some of the restrictions in a mandatory quarantine amid strong criticism from White House officials and health experts.
Under the revised guidelines, medical professionals who have had contact with Ebola patients will be quarantined at home and receive twice-daily monitoring if they have no symptoms. Family members will be allowed to stay, and friends may visit with the approval of health officials. The state will also pay for any lost compensation, if they are not paid by a volunteer organization.
The Joint Chiefs of Staff recommended that all U.S. troops returning from West Africa undergo a mandatory 21-day quarantine, senior Defense officials told Fox News.
Secretary of Defense Chuck Hagel has not issued a final decision on the recommendation, but a vote in favor could put them at odds with the White House.
"The Obama administration is going to war with New York and New Jersey, but its own military is recommending the same thing," a senior U.S. official told Fox News.
The Associated Press contributed to this report.