Chicagoans with Parkinson's pay tribute to Muhammad Ali by boxing to cope with symptoms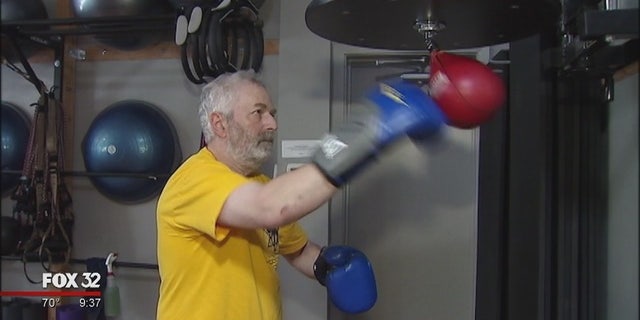 A group of men who participate in Chicago's Rock Steady Boxing Windy City classes know it's ironic that Parkinson's was linked with the late Muhammad Ali's talent, but that hasn't stopped them from using boxing to cope with their own symptoms of the disease.
"We focus on balance, ability, strength, hand-eye coordination," Eric Johnson, who cofounded the class, which has seven participants, told Fox 32 Chicago.
The men in the class pay tribute to Ali, who had Parkinson's syndrome, with this mantra: "Float like a butterfly, sting like a bee; I got Parkinson's, it ain't got me."
Johnson told the news station that non-contact boxing, which the class practices, can help prevent Parkinson's from progressing. The men meet two times a week.
Participant Harvey Popolow said the class is also "a wonderful way to release energy in a non-dangerous manner."
"You don't get hit," he told Fox 32 Chicago. "You get to hit other people."
Steve Goldrich, another Parkinson's patient in the class, said boxing has helped his balance and prevented falls, which is a symptom of the disease.
"And it encourages me to slow down and speak louder," he told the news station, "which is also difficult."
Participants also said the social aspect of the class helps.
"The people are nice and there's nice camaraderie. It helps to be in a group like this where they sort of spur you to keep you going," patient Richard Younkers told Fox 32 Chicago.