Cancer survivor uses Times Square billboard to find kidney donor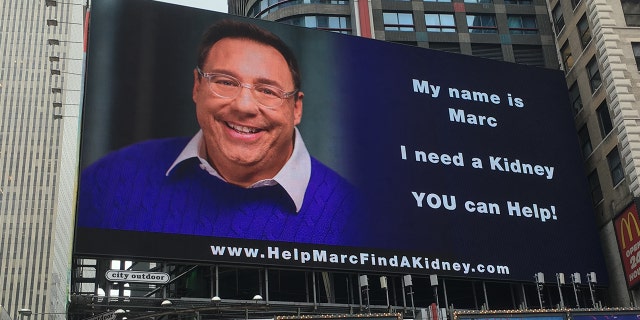 NEWYou can now listen to Fox News articles!
A Long Island dad and cancer survivor is searching for a new kidney at the Crossroads of the World — using a sky-high billboard paid for by a generous friend.
"My name is Marc. I need a kidney. YOU can help!" says the billboard, on Broadway and 47th Street, in Times Square.
The massive advertisement — which sits above ones for Broadway shows — features a photo of Marc Weiner, a 53-year-old TV news executive from Great Neck.
HOSPITAL OUTBREAK LINKED TO EYE EXAM KILLED NEWBORN, FAMILY'S LAWSUIT CLAIMS
In 2015, Weiner was diagnosed with "aggressive" bladder cancer that spread to his kidneys, according to his website, helpmarcfindakidney.com
Doctors removed his bladder and both kidneys to fight the disease, forcing him to undergo "debilitating dialysis three times, every week," he wrote.
Now, he hopes a kind-hearted donor will give him a kidney — and a new lease on life.
"Receiving a kidney transplant would put my life on a positive path," he wrote. "I'd be healthy, could resume work and activities, I could spend more time with family and friends."
CLUSTER OF HIV CASES IN NORTH SEATTLE PROMPT CONCERN OF POTENTIAL OUTBREAK
He added, "Most importantly, it would allow me to live longer, since dialysis takes a tremendous toll on my body."
The ad runs every 7 minutes for about 20 seconds — enough to capture the attention of tourists, who called it a bright idea.
"If you want people to read it, Times Square is the place to put it," said Chris Barnett, who was visiting from Hawaii.
Click for more from The New York Post.