Cancer-stricken farmers sue Monsanto over Roundup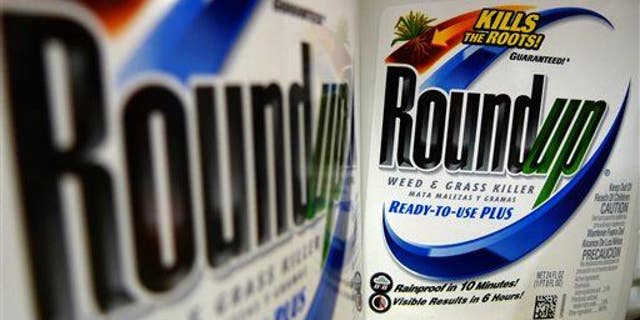 NEWYou can now listen to Fox News articles!
Three cancer-stricken Nebraska farmers and an agronomist are suing Monsanto, alleging that the company misled consumers about the safety of Roundup, the most widely used herbicide around the globe.
The World Health Organization labeled glyphosate, the active ingredient in Roundup, as a likely carcinogen last year. The four Nebraskans suing all have non-Hodgkin's lymphoma, one of the types of cancer glyphosate is most associated with, the Lincoln Journal-Star reports.
"Monsanto championed falsified data and has attacked legitimate studies that revealed Roundup's dangers. Monsanto led a campaign of misinformation to convince government agencies, farmers, and the general population that Roundup is safe," the lawsuit contends, alleging that Monsanto "concealed or systematically sought to discredit" research showing Roundup's dangers.
Per the lawsuit, Monsanto markets Roundup as "safe enough to drink," Courthouse News reports. The lawsuit alleges that glyphosate has been found in groundwater and waterways around agricultural areas where Roundup is used, as well as in food and in the urine of people who have been exposed to it—and even sometimes those without direct exposure.
The plaintiffs are suing for unspecified damages. The response from a Monsanto rep: "While we have sympathy for the plaintiffs, the science simply does not support their claims." Since last year, some countries have restricted or outright barred the sale of Roundup, and California labeled glyphosate a carcinogen—a move being fought by Monsanto.
Similar lawsuits to this one have been filed by agricultural workers in California, Delaware, and other states. (Another lawsuit revolves around traces of Roundup found in Quaker Oats.)
This article originally appeared on Newser: Cancer-Stricken Farmers Sue Monsanto Over Roundup
More From Newser