Brooklyn train crash renews talk of operator health precautions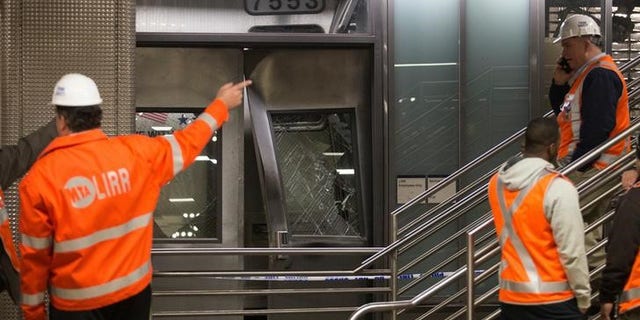 NEW YORK – A commuter train crash at a busy New York City terminal on Wednesday morning was the latest of several accidents that have focused attention on how rail agencies monitor the health of their operators, especially sleep disorders.
The cause of the Long Island Rail Road (LIRR) derailment, which injured more than 100 people at Brooklyn's Atlantic Terminal, remains unknown. But officials immediately drew comparisons to a similar crash in Hoboken, New Jersey, in September that involved a driver who apparently suffered from a sleep disorder.
"This is minor compared to what happened in Hoboken," New York Governor Andrew Cuomo said at a news conference. "But the same question: why did the operator not stop the train before it hit the block?"
The Hoboken crash, which killed one person and injured more than 100, remains under investigation. An attorney for the engineer of the NJ Transit train has cited undiagnosed severe sleep apnea, which restricts breathing during sleep, causing daytime drowsiness and attention deficits. The condition can be triggered by obesity, family history and age and is more often seen in men.
The disorder has been linked to other crashes as well, including the 2013 derailment of a Metro-North Railroad commuter train in New York City. A National Transportation Safety Board report concluded that the driver had undiagnosed sleep apnea that contributed to the accident.
The NTSB has also found sleep apnea likely played a role in several freight crashes, including a 2011 collision in Iowa and a 2013 accident in Missouri.
A union representative for LIRR engineers could not be reached on Wednesday.
Last month, U.S. regulators at the Federal Railroad Administration issued an advisory citing the Hoboken crash and recommending that rail agencies screen crews for sleep apnea.
The agency in March began the process of drafting a rule in conjunction with the U.S. trucking regulator that would require railroads and truck companies to ensure medical examinations for drivers include sleep apnea screening.
A spokesman for the FRA said there was no timeline for issuing a final regulation.
Airlines are already required to screen pilots for sleep apnea. Those diagnosed with the disorder are barred from flying unless they show the problem has been treated and obtain a special permit.
"It's playing a part in every transportation area, including trains," said Bob Swint, a rail accident expert and consultant.
After the 2013 crash, the Metropolitan Transportation Agency, which operates both Metro-North and the LIRR, conducted a pilot program to test operators for sleep apnea. In April, the agency said it would expand the effort to all MTA employees, including LIRR, though the screening has not yet started.
The MTA is in the process of selecting a medical firm to handle the screening and expects to award a contract in the coming months, according to spokesman Aaron Donovan, who said the program was the first of its kind in the nation.
After the Hoboken crash, NJ Transit also improved its sleep apnea screening process, which had been in place since at least 2005, a spokesman, Jim Smith, said in an email. Any rail employees with "safety-sensitive" jobs who exhibit sleep apnea symptoms are removed from operation until they can certify that the condition has been corrected or controlled.
NJ Transit also made other safety changes including adding a second crew member in the cab when a train arrives at terminals in Hoboken and Atlantic City.
U.S. train engineers are required to undergo vision and hearing testing every three years, but federal regulations do not specify other medical examination standards.