Brett Kavanaugh, Trump's pick for court, has left trail of opinions on health care and pharma issues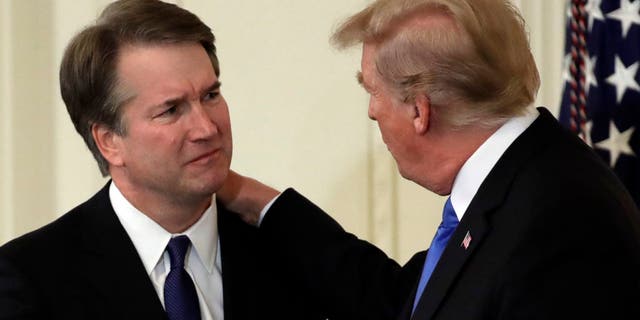 WASHINGTON — Brett Kavanaugh, President Trump's nominee for the Supreme Court, has left a trail of rulings and opinions concerning the Food and Drug Administration, pharmaceutical companies, and medical device manufacturers in his dozen years on the District of Columbia circuit court.
At one point, Kavanaugh urged judges to defer to the FDA and other scientific agencies, largely on the grounds that courts could not compete with the agencies' expertise. He also sided with the FDA in a case over whether the agency should be forced to provide access to an unapproved drug.
Kavanaugh, whom Trump announced as his second nominee to the nation's highest court on Monday, has sat on the District of Columbia Circuit Court of Appeals since 2006. Health care, broadly, is expected to figure heavily into the Senate's fight over his confirmation: specifically, whether Kavanaugh would support upholding provisions that guarantee insurance coverage for Americans with pre-existing health conditions, and whether he would rule in cases involving access to abortion.
But the 53-year-old Yale Law graduate — Trump's second Supreme Court pick — already has a wealth of experience in other cases of varying political importance and obscurity within the health care industry.
In 2007, Kavanaugh was among an 8-2 majority when the D.C. Circuit Court upheld a ruling that terminally ill patients had no constitutional right to access unapproved drugs.
In the case, which pitted the Abigail Alliance for Better Access to Developmental Drugs against the FDA, the father of a college-aged cancer patient sued the agency for access to a drug approved only for colon cancer trials (his daughter had head and neck cancer).
Kavanaugh concurred with the majority opinion as the court sided with the FDA. The Supreme Court later declined to hear an appeal, effectively maintaining the status quo for how the FDA should provide access to experimental drugs.
The so-called "right-to-try" debate has been a political flashpoint more recently, with Vice President Mike Pence strongly advocating for laws allowing patients a different pathway for accessing unapproved drugs. After a contentious process in Congress, Trump signed a version of a right-to-try bill into law in May.
Kavanaugh in 2013 also sided with the FDA in a case against Cytori Therapeutics, a medical device maker. Cytori had sued the FDA after the agency denied fast-track approval to devices meant to extract stem cells from fat tissue, citing differences between approved devices on the market and Cytori devices.

Kavanaugh, in upholding a lower court's ruling, urged deference to the FDA and other federal scientific agencies.

"A court," he wrote, "is ill-equipped to second-guess that kind of agency scientific judgment" as it pertained to federal agency procedure.
Kavanaugh, in 2014, did rule against the FDA, identifying flaws in the agency's decision to approve marketing rights for a surgical mesh, then its failure to follow procedure in rescinding those marketing rights.
He wrote in detail about procedure for medical device approval procedure in his decision, scolding the FDA for its "inability or unwillingness to identify those wrongdoers" and remarking that it was "notable" no senior FDA official had been disciplined for the agency's lapses.
In a case decided last month, Kavanaugh also wrote an opinion in the case of the pharmaceutical manufacturer Boehringer-Ingelheim, though the ruling was not specific to industry issues. The judge ruled that documents the Federal Trade Commission had sought via subpoena were protected by attorney-client privilege.
Kavanaugh has also weighed in on abortion access, ruling that the Affordable Care Act's mandate that employers include contraceptive care in health insurance plans infringed on religious liberty. Conservatives have also criticized Kavanaugh for an initial ruling that, per The Federalist, "wrote a roadmap for saving Obamacare."