Boy who had legs amputated meets quadruple-amputee dog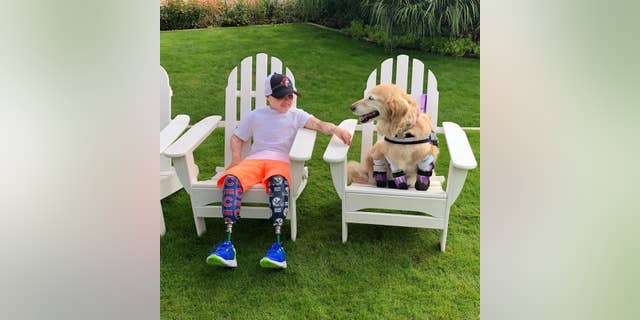 A 10-year-old boy who had both of his legs amputated earlier this year finally had the chance to meet the quadruple-amputee golden retriever that he's been looking up to for inspiration. On Friday, Owen Mahan, of Indiana, flew to Arizona to meet Chi Chi, the loveable therapy dog who has adapted to life on prosthetics.
"It made me really happy," Mahan told ABC News. "We both got our legs amputated."
Mahan wasn't expected to live, walk or talk after he fell into a scalding hot bath and suffered burns on 98 percent of his body at age 2. His adoptive mother, Susan Mahan, said meeting the therapy dog who has overcome her own health perils meant the world to her son.
Chi Chi was adopted by the Howell family after she was found dumped in a garbage bin in South Korea. She had been severely abused and required all four legs amputated, but Elizabeth Howell said the pooch gets around well on her prosthetics and has a determined personality.
GIRL WHO LOST FEET IN LAWNMOWER ACCIDENT LEARNS TO DANCE AGAIN
"The never-give-up attitude that she brings to her life every day; she's a great reminder of that for us," Howell told ABC News. "And forgiveness because she's forgiven and moved on and learned to trust people again."
After Mahan had his legs amputated, his teacher introduced him to Chi Chi through her Facebook page and he began watching her videos. Soon, he had a wish to meet the dog, and his mom told ABC News that with the help of strangers, including NASCAR star Tony Stewart, it became possible.
"I had tears," she told WCNC. "He had no clue what we were doing. He thought we were just delivering a package. He did not know Chi Chi was going to be here."
The two spent time at a NASCAR event and got the chance to hang out during their special meeting. Howell shared photos to the "Chi Chi Dog Rescue" while Mahan posted her own on the "IfOwenCanWeCan" page.
WOMAN CLAIMS SHE SUFFERED CHEMICAL BURNS WHILE USING ESSENTIAL OIL DIFFUSER
"Every picture I see of her she looks like she's smiling," Susan told WCNC. "Owen is the same way. He comes out of surgery smiling, so they're both smiling and they're both like 'So something bad happened to me, let's just move on.'"
Susan told ABC News she hopes the meeting will stay with her son as he grows older and kids begin noticing that he looks different. The meeting made an impact on Howell too, who has since started fundraising for the Mahan family, which includes Owen's two adopted brothers and two young foster children. Susan said strangers have sent cards and even gifts from the children's Christmas lists.
"Every night I have a nice little cry of how nice and wonderful people are," Mahan told ABC News. "There is a lot more good in the world than there is evil."