Boy hit by foul ball at baseball game appears to have brain injury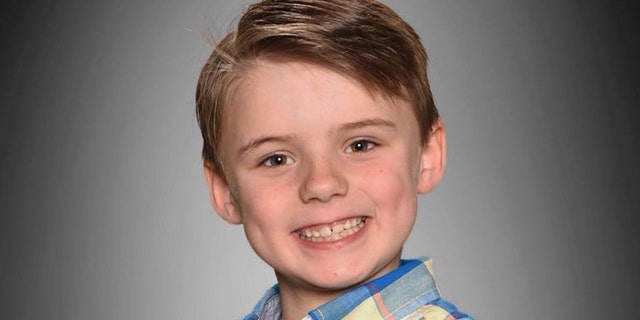 A Missouri family is hopeful for their 7-year-old son who remains sedated at Children's Mercy Hospital after he was struck in the head by a foul ball at a college baseball game on Friday. Dawson Hirshey, who was seated with his family members near the third base dugout, is expected to survive, but is believed to have suffered a brain injury and a several mini-strokes.
"CT [scan] shows sign of a brain injury, but as far as we can tell this will cause physical problems rather than mental," a cousin posted on the family's GoFundMe page. "He has also suffered from a few mini-strokes. Despite all this, the doctors have told us he will in fact be waking up!"
MAN LEFT FACELESS FOR 2 MONTHS GETS SECOND TRANSPLANT AFTER FIRST DETERIORATES
The post revealed that Hirshey, who underwent surgery to remove part of his skull to relieve swelling, gave his neurologist two thumbs up when asked if he could hear them, and that he will likely remain sedated for a few more days. He has not spoken since losing consciousness on the way to the hospital on Friday night, Fox4KC.com reported.
The outing was Hirshey's first time at a Missouri Southern State University game, and his parents said it all happened within minutes of sitting down.
"Came right our way," Alicia Hirshey, the boy's mother, told Fox4KC. "It was so fast, a split second. He immediately grabbed it and started crying, so we ran over and realized he was hit and I yelled for a medic. It knotted up immediately. You could even see the stitches of the ball."
The field-level section that the family was seated in at the stadium was not covered by a protective net, The Kansas City Star reported. The city of Joplin, which maintains the stadium, did not indicate to the news outlet whether it would be conducting a safety review.
BOY WITH AUTISM BUILDS WORLD'S LARGEST TITANIC REPLICA
Every MLB team added additional safety netting to their stadiums ahead of this year's season after a toddler was hit in the face by a foul ball last year. The safety netting now expands to the end of the player dugouts.
In addition to the family's GoFundMe page, the Diamond, Mo., community is placing orders for "Pray for Dawson" t-shirts. His mother is keeping family updated on his health status on the "Prayers 4 Dawson" Facebook page. The Kansas City Royals have reached out and sent gifts for Hirshey and his twin sister, Delaney.