Boy battling brain tumor gets special tour of John Deere factory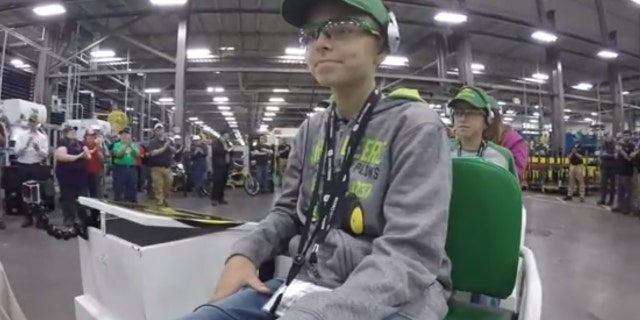 NEWYou can now listen to Fox News articles!
An 11-year-old boy with an inoperable brain tumor was able to take a break from the hospital last week to spend time at the John Deere Harvester Works factory in Illinois. Donning a green and yellow John Deere hat and sweatshirt, Johnny Becker saw never-before-used machines and took a turn on the assembly line with the help of welcoming employees, Fox 59 reported.
Becker, who is about to start his eighth round of chemotherapy, has a deep-rooted love for the company, as he's watched his farmer grandfather and uncle work John Deere machines, and his own father use the company's tools in his landscaping business. As a result, the factory's employees rolled out the red carpet for their young fan and his siblings.
'ELF ON THE SHELF' UNDERGOES EMERGENCY SURGERY AFTER DOG ATTACK
"He chose to visit us, and it's truly very humbling," David Thompson, a machine repairman who was on hand for Monday's tour, told Fox 59. "We've got everything from signs to shirts to toys for him."
His mother, Marie Becker, told the news outlet that it was great to see her son smile. One of his favorite memories was writing his name using a robotic arm in the paint department.
"These poor kids, they've been dealt a bad blow," Randy Parker, a factory employee, told Fox 59. "We try to keep in touch with them after they leave, you know, it's kind of like we take them into our family."
Becker said her son has been responding well to treatments thus far, and is determined to keep up with his brothers.