Bounce Houses a Party Hit for Children, Raises Injuries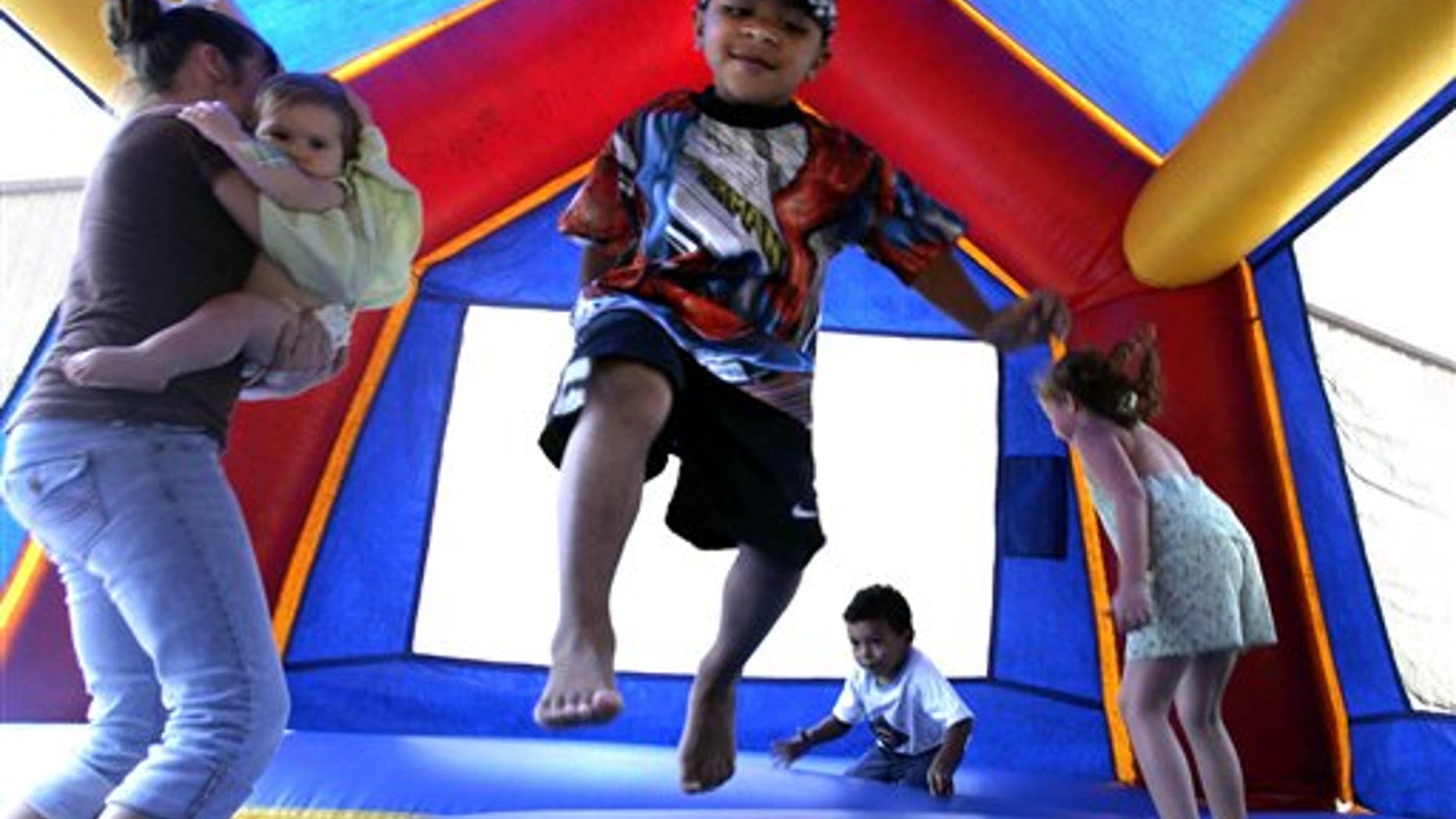 Inflatable bounce houses may be a hit a children's birthday parties, but a nationwide study has found that they're also raising the number of injuries within recent years, also proving they're dangerous.
Kids often crowd into bounce houses, and jumping up and down can send other children flying into the air, too.
The numbers suggest 30 U.S. children a day are treated in emergency rooms for broken bones, sprains, cuts and concussions from bounce house accidents. Most involve children falling inside or out of the inflated playthings, and many children get hurt when they collide with other bouncing kids.
The number of children aged 17 and younger who received emergency-room treatment for bounce house injuries has climbed along with the popularity of bounce houses — from fewer than 1,000 in 1995 to nearly 11,000 in 2010. This means the amount has doubled since 2008.
"I was surprised by the number, especially by the rapid increase in the number of injuries," said lead author Dr. Gary Smith, director of the Center for Injury Research and Policy at Nationwide Children's Hospital in Columbus, Ohio.
Smith and his colleagues analyzed national surveillance data on ER treatment for nonfatal injuries linked with bounce houses, maintained by the U.S. Consumer Product Safety Commission. According to the findings, only about 3 percent of children were hospitalized, mostly for broken bones. More than one-third of the injuries were in children aged 5 or younger. The safety commission recommends against letting children younger than 6 use full-size trampolines, and Smith said barring kids that young from even smaller, home-use bounce houses would make sense.
"There is no evidence that the size or location of an inflatable bouncer affects the injury risk," said Smith.
Amusement parks and fairs have bounce houses, and the playthings can also be rented or purchased for home use.
Other recommendations, which are often listed in manufacturers' instruction pamphlets, include not overloading bounce houses with too many kids and not allowing young children to bounce with older, heavier kids or adults, said Laura Woodburn, a spokeswoman for the National Association of Amusement Ride Safety Officials. Several nonfatal accidents occurred last year when bounce houses collapsed or were lifted by high winds.
The study didn't include deaths, but some accidents are fatal. Separate data from the product safety commission shows four bounce house-related deaths occurred from 2003 to 2007, all involving children hitting their heads on hard surfaces. A group issuing voluntary industry standards says bounce houses should be supervised by trained operators. The study authors recommend bouncers should be prohibited from doing flips and purposely colliding with others.
Bounce house injuries are similar to those linked with trampolines, and the American Academy of Pediatrics has recommended against using trampolines at home.
The study was published online Monday in the journal Pediatrics.
Based on reporting by the Associated Press.
Follow us on twitter.com/foxnewslatino
Like us at facebook.com/foxnewslatino