Blackhawks star Marian Hossa to miss next season due to skin disorder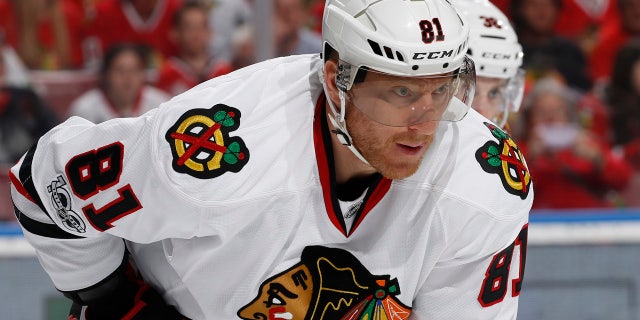 NEWYou can now listen to Fox News articles!
Chicago Blackhawks veteran winger Marian Hossa will be sidelined next season due to a progressive skin disorder that requires aggressive medications. According to an announcement released by Hossa and the Blackhawks on Wednesday, due to the severe side effects associated with his treatment plan, the 38-year-old forward is unable to play hockey next season.
"While I am disappointed that I will not be able to play, I have to consider the severity of my condition and how the treatments have impacted my life both on and off the ice," Hossa said in the statement.
It was further revealed that Hossa had been undergoing treatment privately over the last few years under the supervision of the Blackhawks medical staff.
"Marian has been dealing with the effects of a progressive skin disorder that is becoming more and more difficult to treat and control with conventional medications while he plays hockey," Dr. Michael Terry, the team's physician, said in a statement. "Because of the dramatic nature of the medications required and their decreasing effectiveness, we strongly support his decision not to play during the 2017-18 season. We feel in the most certain terms this is the appropriate approach for Marian in order to keep him functional and healthy in the short term and throughout his life."
While the exact diagnosis was not revealed, Blackhawks general manager Stan Bowman said the absence of Hossa in next season's lineup is "a significant loss," but said the star never complained or missed games despite his health challenges.
"The organization will continue to provide him every resource he needs to maintain his health," Bowman said in a statement.
Hossa, who is considered one of the best defensive forwards in the league, has won three Stanley Cups with the Blackhawks during his eight seasons with the team.