Baby died after parents refused treatment for jaundice, police say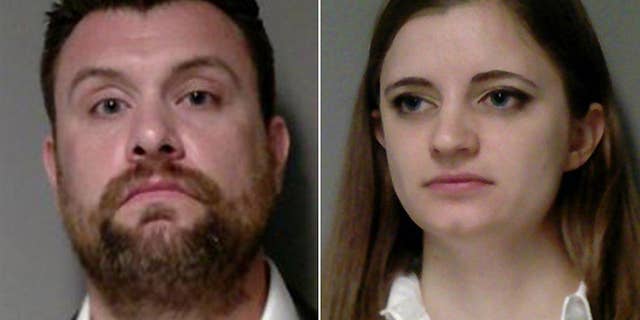 A Michigan couple who attempted to pray for their newborn daughter's health rather than seek medical attention have been charged with involuntary manslaughter in connection to the infant's death. Rachel Joy Piland, 30, and, Joshua Piland, 36, were reportedly warned by a midwife about their daughter's jaundice and the potential for brain damage or death, The Lansing State Journal reported.
A detective testified that rather than seek medical help, Rachel Piland replied that "God makes no mistakes."
Rachel Piland had delivered their daughter, Abigail, at the family's home on Feb. 6 with the help of a midwife, the news outlet reported. The next day, the midwife allegedly warned Rachel about Abigail's health, and advised she be taken to a pediatrician or the hospital. Rachel then canceled an appointment with the midwife for Feb. 8.
MOM FACING JAIL OVER REFUSAL TO VACCINATE SON
Rachel's mother, Rebecca Kerr, reportedly observed that the infant's skin color was off, and then observed blood coming from the baby's nose. Detective Peter Scaccia testified that Kerr wanted to call for help on Feb. 9, but "Rachel would not allow her," and instead went upstairs to pray, The Lansing State Journal reported.
The baby was found lifeless in a bouncy seat later that morning, and Joshua attempted "one rescue breath but had no success," Scaccia said. Joshua allegedly did not want to perform CPR on the child because he only knew protocol for adults.
"They then brought Abigail upstairs to pray for her. Joshua continued to massage Abigail, attempting to get her good air," Scaccia testified, according to the news outlet. "Both Josh and (Rachel) reached out to friends and fellow church members to come to their home and pray for Abigail's resurrection, but never called the police."
WOMAN ACCUSED IN PLOT TO KILL NIECE WITH POISONED BREAST MILK
Scaccia said a call to authorities was placed by Rachel's brother, who lives in California. A medical examiner later determined Abigail died from unconjugated hyperbilirubinemia and kernicterus, and attributed both to the infant's jaundice. He said she would be alive if the parents had sought treatment, the news outlet reported.
They were each charged with a single count of involuntary manslaughter and released after posting bond. The next hearing is scheduled for Oct. 5, with each facing up to 15 years in jail if convicted.