At least 212 people hit by parasite from Del Monte vegetable trays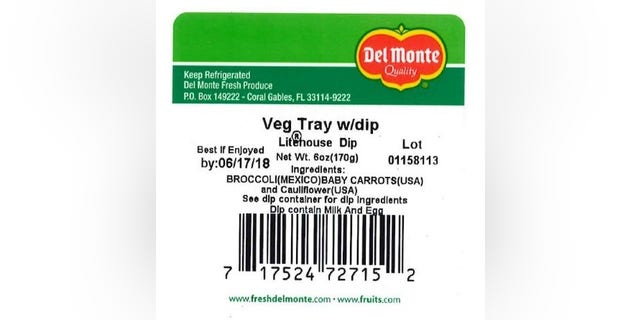 At least 212 people in four Midwest states have been sickened as of Monday by a parasite found in plastic vegetable trays sold under the Del Monte brand.
The outbreak of cyclosporiasis, an intestinal infection caused by the cyclospora parasite, was first tracked by the Centers for Disease Control and Prevention (CDC) in mid-June, after 78 people were reported ill across the region.
Del Monte, a Florida-based company, issued then a voluntary recall for all 6-oz. and 12-oz. trays containing carrots, broccoli, cauliflower, celery and dill dip.
The states with reported victims are Minnesota, Iowa, Wisconsin and Michigan, according to the CDC, with seven people hospitalized so far. As many as 54 cases have been reported in Minnesota.
The symptoms associated with cyclosporiasis are watery diarrhea, loss of appetite, weight loss, cramping, bloating, increased gas, nausea and fatigue.
The recalled products have a "Best If Enjoyed By" date of June 17, 2018.
The infected trays were sold at Kwik Trip, Kwik Star, Demond's, Sentry, Potash, Meehan's, Country Market, FoodMax and Peapod, the agency said.
The investigation is ongoing and the CDC will provide updates when more information is available.